The Stuff Of Legends…
Tuesday, July 19 2016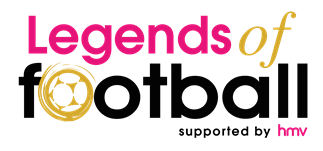 George Best falling down the steps being a bit, ahem, worse for wear; Brian Clough turning up to collect his award, promising to turn in early having nothing to say – then talking for a good 45 minutes or more; Sir Alex Ferguson signing copies of his specially compiled promo CD of his favourite inspirational songs… Everyone's got a favourite moment from the HMV charity football dinner.
The event, formerly known as the HMV Football Extravaganza, now under the name of Legends Of Football is an entertainment industry institution – a key date on the calendar of the video, music and games industries and one that still raises vast amounts for music therapy charity Nordoff Robbins.
The roll call of players and managers who turn out for the annual event reads like a veritable Who's Who of footballing greats from the past few generations, starting with Pele and Stanley Matthews, and running through to legendary homegrown names such as David Beckham and Ryan Giggs, via managerial titans such as Sir Alex Ferguson and Sr Bobby Robson.
It was the two knights who told one of the driving forces behind the event, former HMV supremo Brian McLaughlin how highly they rated it. "Sir Alex said 'Look Brian, this is the best football dinner in our industry, and it's being run by people who have nothing to do with football'," says McLaughlin, talking to The Raygun ahead of this year's Legends Of Football event, due to be held at its spiritual home of Grosvenor House on October 5. This year's event is honouring 25 seasons of the Premier League and the goalscorers who've netted more than 100 times sine the event started.
And while its footballing credentials are impeccable – and more on its history in a moment – it's worth remembering the good the event has done over the years.
For starters, there's the £7 million it has raised for the charity and the incredible work it's done. As McLaughlin notes: "I've been a governor for a long, long time, it's grown from one centre in north London to more than 80 and it's moved away from just being a children's charity, it's now one that involves people with dementia. You only have to see one of the sessions to understand the power that music has."
It all started some 21 years ago, or, rather, a bit before that. There was a feeling, McLaughlin recalls, that HMV and others weren't doing their bit for charity. A trip to Enfield football club, of all places, where former Manchester United boss Tommy Docherty was doing an after dinner speech, drawing a crowd of 400, planted the seeds in HMV's mind. Eventually, after some time, and a few phone calls around the industry, Richard Keys at Sky was approached and asked for help in putting something together, he in turn suggested Geoff Shreeves, and, before long the first event, with Jimmy Greaves, at the Grosvenor, raised £50,000 for charity.
It was decided to hold a regular, football-themed charity event, for Nordoff Robbins, with lifetime achievement awards going to legends – the early years featured many names who have now departed, the aforementioned Matthews, Nat Lofthouse, John Charles and more.
McLaughlin reserves special praise for two of the key figures in the event, TV and radio presenters Shreeves and Keys, whose bulging contacts books help pull in key players and personalities. "Those are the guys that make it happen, I haven't got the numbers ion my contacts list that they have, they're the ones persuading people to come." And there's further praise for the footballing authorities as well. "We have great support from the Premier League," McLaughlin explains, "both in terms of their init from the event and sponsorship as well."
McLaughlin has continued his involvement with the football event long after he retired from HMV. When Simon Fox was appointed at the head of the retailer some 10 years ago, he spoke to his predecessor, admitted he knew nothing about the beautiful game, and as well as being a governor of the charity. McLaughlin took over some of its running too.
The HMV name fell away from the event as the retailer ran into its much publicised financial woes, but after Hilco stepped in to save it from administration and begin the journey back to recovery, McLaughlin approached Hilco chief Paul McGowan, who soon returned HMV to its rightful position as headline sponsor, complete with a name change, to Legends Of Football. "HMV has renewed it for another three years as headline sponsor," says McGowan. "In a way what we're doing is honouring legends of football, it's much easier to market the event as honouring legends. It does what it says on the tin."
Mention of HMV and its woes brings us on to those problems, its re-emergence as a  leading light on the high street and online. McLaughlin is full of praise for the way it has re-emerged. He says: "I think HMV was very, very lucky that a company such as Hilco came long. Physical is still doing well, DVD is still doing well, and HMV is now doing well again. It would have been awful if the brand had disappeared from the high street like some others."
McLaughlin, of course, typified the original HMV ethos; he, like many still there, had been at the retailer for years and was devoted to Nipper and the ideas that drove it forwards. A chat with him always offers up the opportunity to reminisce about the good old days; not least the HMV conference, one of the highlights on the pre-2008 crash industry's calendar. "The conference was a massive incentive to staff. Apart from the fun we had, it was probably the best money we spent. We were building something together and everybody at the company was working for the same thing. We were working for the most successful record retailer in the world, it wasn't just a job, it was something really positive."
Of course, things have changed now. The post-recession, post-digital download era entertainment industry is a different beast, but the Nordoff Robbins event has remained something of a constant. It's harder work now, sure, but McLaughlin still loves the challenge and working on it.
"One of the difficulties now, is that in the entertainment industry the music side is reduced in size," he notes. "Whereas10 years ago, there were five or six major record companies, today there are three or four. It's a challenge, but we're still selling 100 or 110 tables, it just keeps on going."
Why has it remained such a key date? Why do people still enjoy it so much?
"It's just a fun night, it's not necessarily about networking or having to work," he concludes. "People go there to have a good time. And 70 or 80 per cent of the ticket price goes straight to charity."
Tickets and seats are available from here http://www.lofootball.co.uk/ or you can email  enquiries@legendsoffootball.org.uk. You can follow them on Twitter at @lofootball.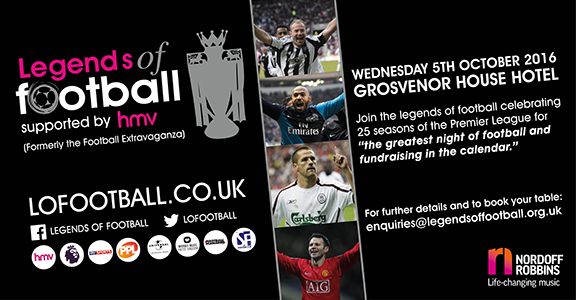 Tags:
Brian McLaughlin
,
events
,
extravaganza
,
HMV
,
industry
,
legends of football