We've Been Ex-Spectring You, Mr Bond
Tuesday, March 15 2016
It may not sound like the most thrilling James Bond adventure ever – a mission to takeover retailers around the country – but the military precision with which Fox and its partners took on the covert task would have impressed even the most nefarious 007 villain or, dare we suggest it, the chiefs at MI6.
The campaign for the home entertainment release of Spectre saw Bond aiming to become ubiquitous in stores, with the kind of profile no secret agent would ever wish for.
That Fox, and companies such as Creo working alongside the studio, achieved it without resorting to Q-style gadgets speaks volumes about the hard work that went in to the campaign.
The brief was simple: to create the biggest home entertainment event of 2016 and ti signal Bond's arrival by "disrupting the shopper journey.
The numbers – beyond the near-1 million units shifted on assorted Blu-ray and DVD SKUs in the first week on sales – speak for themselves.
There were 61 different pieces of point of sale, a total of 32,185 items produced and 20,000 packs sent out.
Key to the in store activity was a chart takeover of Tesco's 886 stores. It's the first time the retailer has taken part in such a widespread effort and it included all manner of different elements: floor stickers, aisle entrance character standees and aisle entrance chart fins.
Bumper units, half and full pallets were designed to hold stock in the back of the unit, enabling staff to easily replenish the units, thus I'mproving compliance. As well as Tesco and the other key grocers such as Asda, Morrisons and Sainsbury's, and the ubiquitous HMV, Creo and Fox pushed out into the non-traditional space, taking in The Co-operative, Wyevale Garden Centres and Dunelm
Commenting on its success, Creo's Richard Saysell said: "It's always a privilege to work on an iconic campaign such as Bond.  The team at Creo worked in partnership with Fox to ensure success across a wide range of retailers by balancing creativity with the need to deliver large stock holding units to meet demand."
And from Fox, echoing other statements from within the studio, the major's head of creative services Yazz Doe said: ""Our focus was to deliver the biggest home entertainment event since 2013 and to bring innovation and creativity to the category in retail.  Bond is such an iconic film to bring to market and a hallmark of quality production – Creo did a fantastic job ensuring the POS suite for the Blu-ray and DVD lived up to all of our expectations."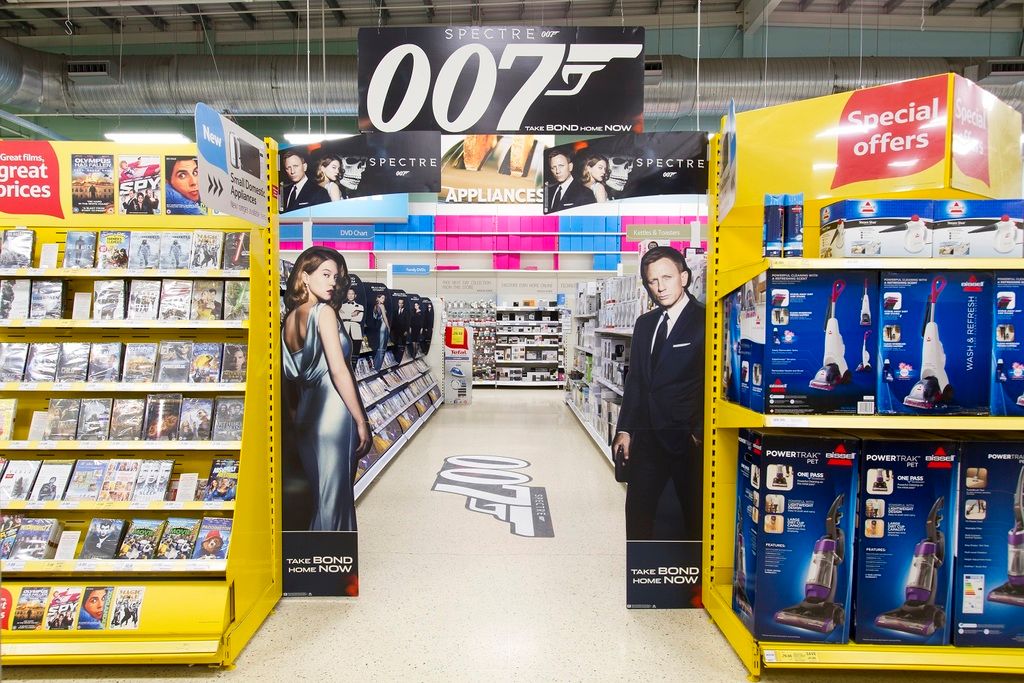 Above and below: the Tesco takeover
Below: Sainsbury's pallets, stockholding units and theatrical-style pos…