The Tin That Launched A Thousand Boxes
Thursday, September 17 2015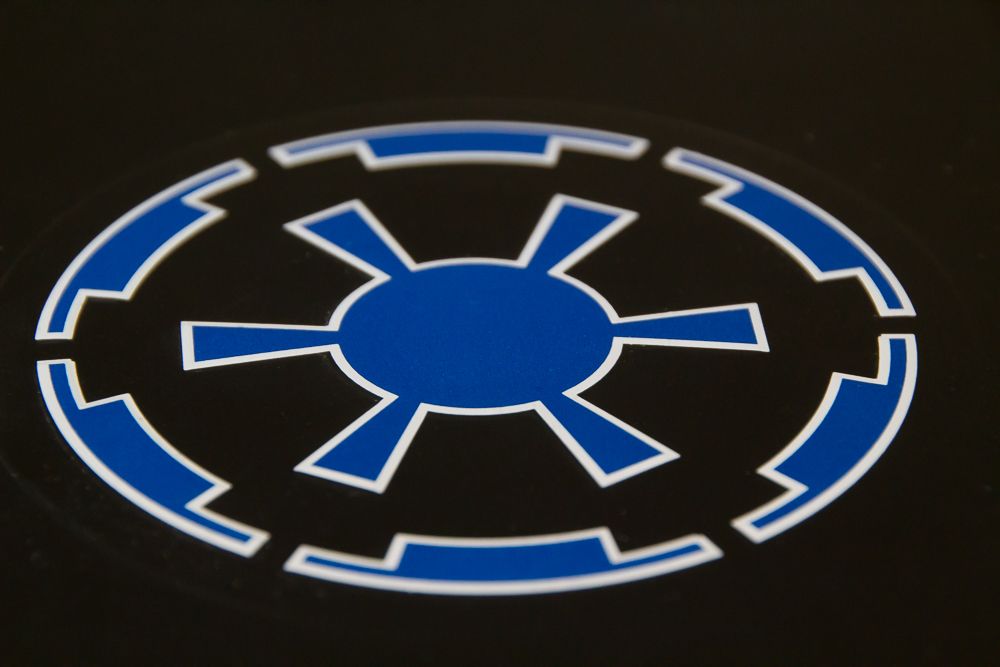 In the third and final piece of his fascinating look at how Star Wars changed the face of video publishing and catalogue sales in the early to mid-1990s, influencing packaging trends that continue to reverberate even in the digital era, former Fox staffer Steve Collins looks at the seminal Star Wars tin. Here's how the template for the industry for a generation was created…
Following the groundbreaking 1994 UK campaign for the Star Wars Trilogy VHS, the worldwide release of 1995 was an even greater success, with global volumes of 27 million units… making it (then) the biggest live-action release of all-time.
In addition to the individual full-screen and widescreen versions of the three films, the UK release included four different box sets.  Three of these were simple rigid boxboard designs, which enabled consumers to buy into the trilogy at a good price and were for the more casual fans and gifters.
For the real collectors though, I created a deluxe and very limited box set. Limited to only 20,000 copies worldwide, this beautiful, collectable metal-encased set, featuring an embossed logo of the Galactic Empire on the lid, was packed full of exclusive Star Wars goodies.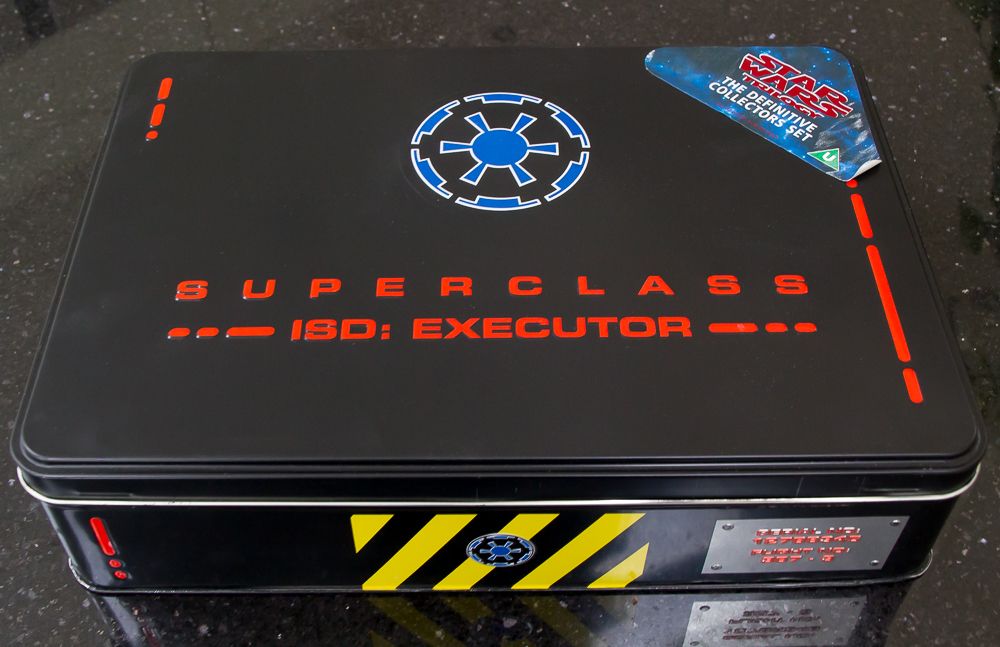 In addition to the Original Trilogy films, presented of course in their THX re-mastered glory, and in exclusive card slipcases featuring differently coloured lightsaber artwork on the front – blue, red and green, corresponding to the lightsaber colours of Obi Wan Kenobi, Darth Vader and Luke Skywalker  (you knew that right?) – the set also contained a fourth tape: From Star Wars To Jedi – The Making Of A Saga, containing a 70 minute documentary on the series.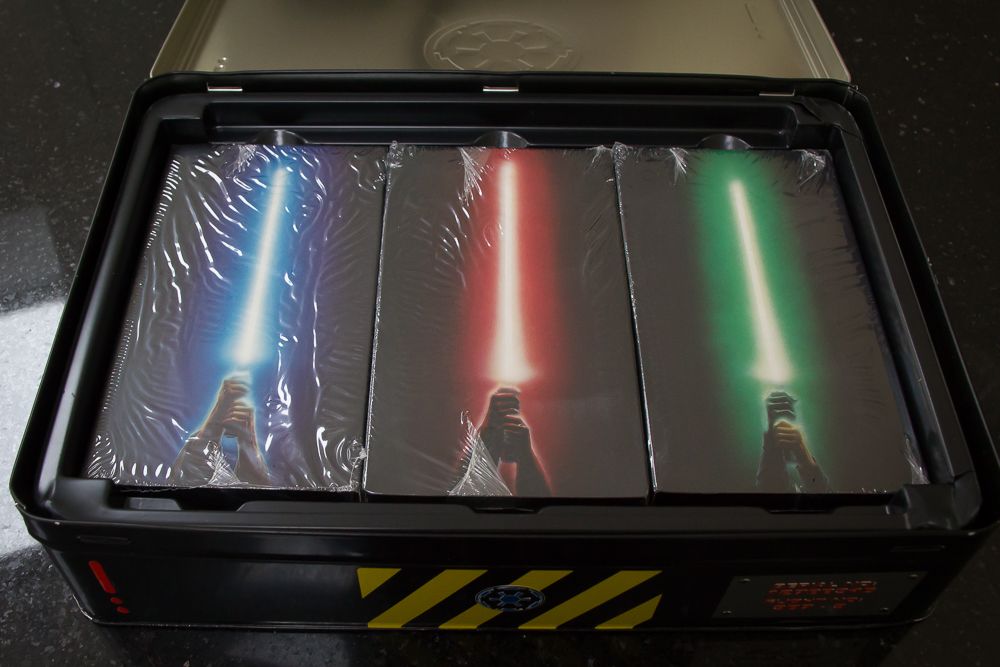 Just as with the Alien Trilogy Facehugger box a couple of years earlier, I placed a huge quantity of further bonus material onto the end of each of the feature film tapes, using much of the linear bonus that had been available in the definitive US LaserDisc boxset.
Years before it became common practice on DVD and Blu-ray, the Star Wars and Alien trilogy boxsets were some of the earliest and finest examples of VHS formats offering additional bonus content alongside the feature to appeal to the real fans of these franchises and to film enthusiasts.
In total, more than five hours of supplemental materials were integrated, including a Making Of for each film, a tour around the LucasFilm archives, numerous featurettes and interviews and even a music video from Jabba's Palace.
Indeed there was so much bonus material, that it was impossible to list it all on the outer slipcases of the individual films, so I printed up a 4-page programme to detail all the content being included.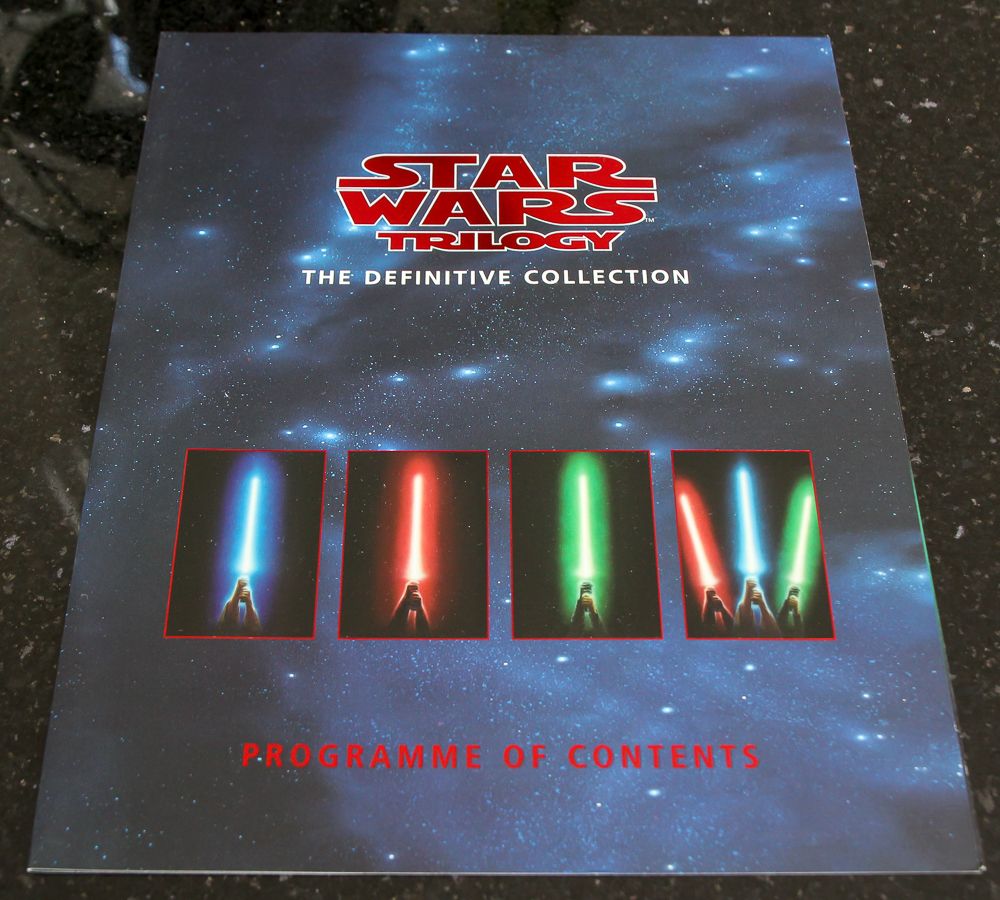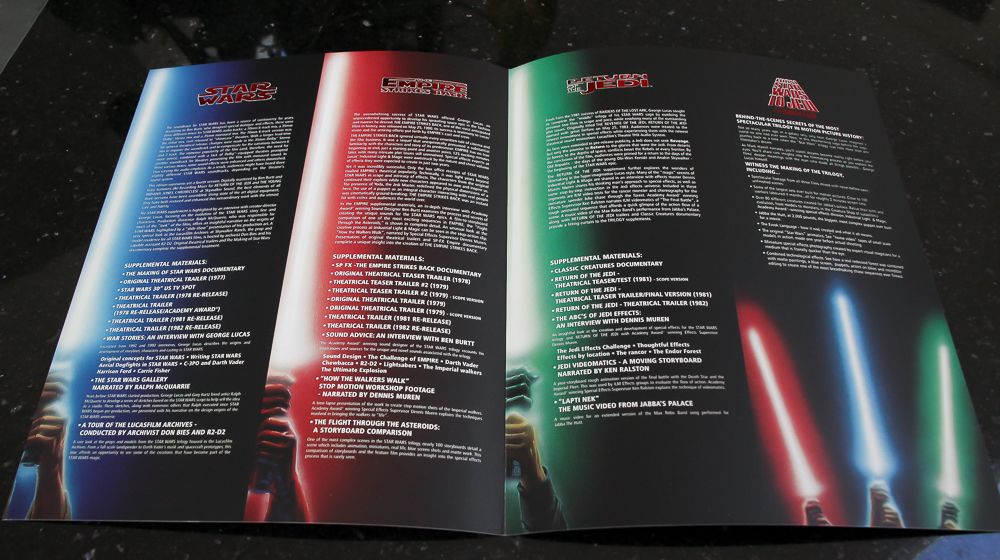 Sitting on top of the four tapes, were all the printed supplements, which included a book of all three Star Wars scripts, reprinted by BoxTree, but with a new cover, exclusive to this set, featuring the three new John Alvin key artworks.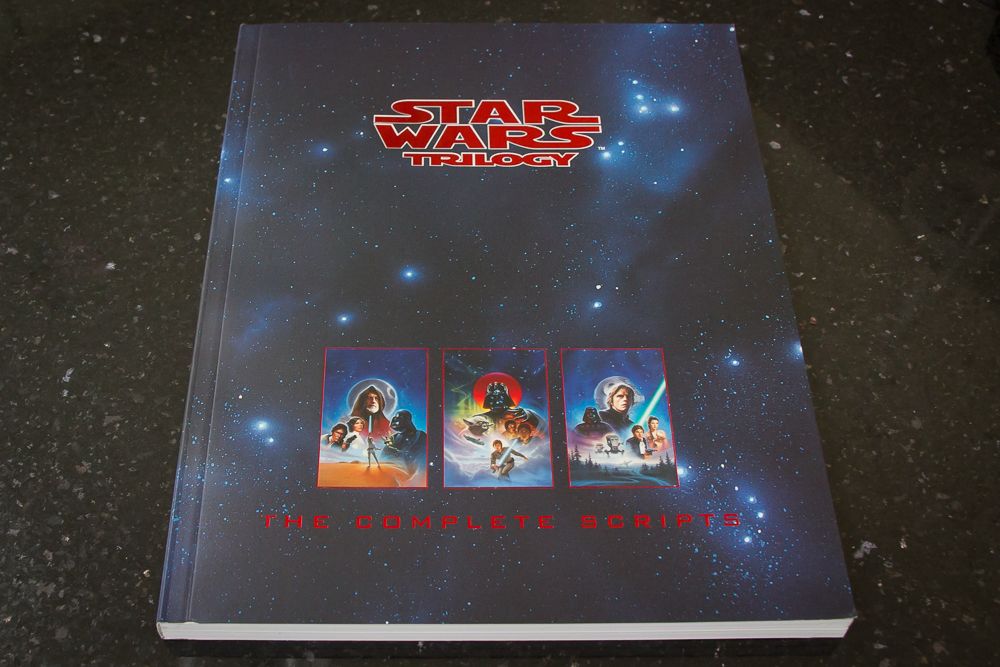 Each box included an individually numbered Certificate of Authenticity inside printed on a gatefold card featuring artwork of Darth Vader's mask.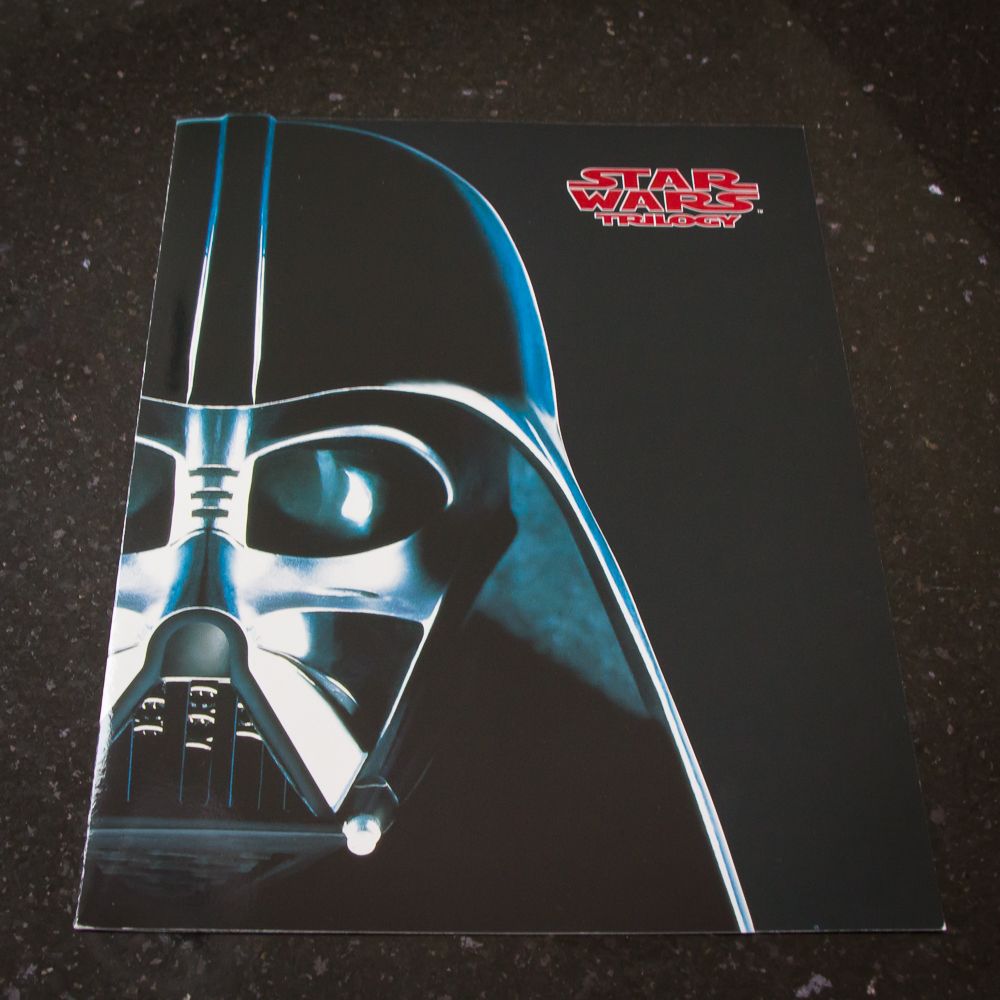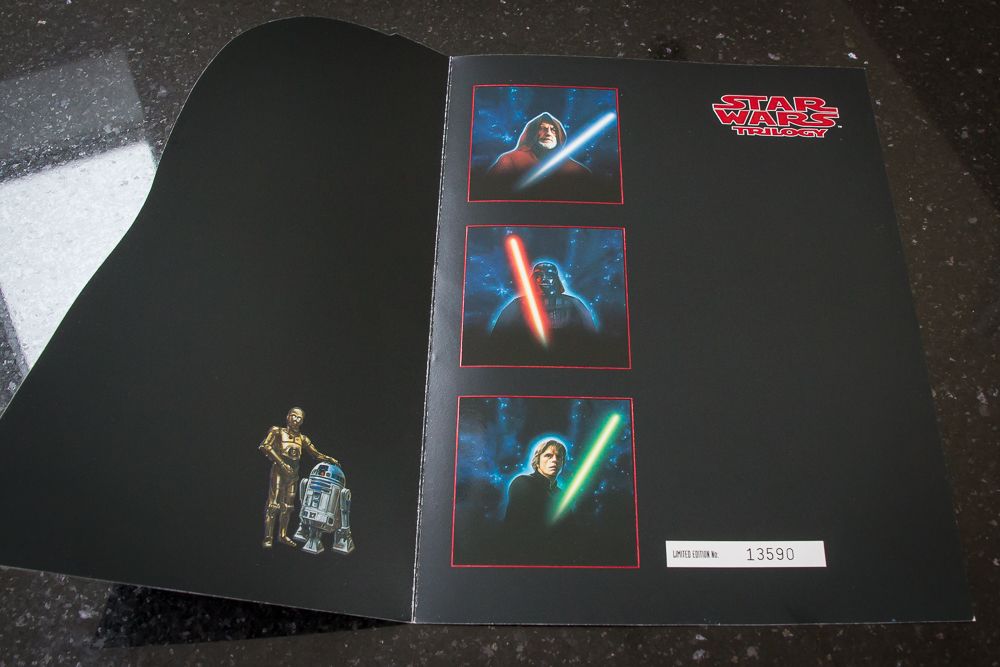 I also printed two different sets of collectable and frame-able litho prints:
Firstly, we included those three newly commissioned gorgeous artworks from John Alvin that were being used as the sleeves for the regular full-screen VHS singles. Free from title treatments and VHS logos, they looked amazing.
Perhaps even more exciting, I printed an exclusive set of six reproductions of matte paintings that were actually used in the Star Wars films.
These days, we're so aware of CGI being used to create backgrounds in movies, especially in the case of the Star Wars prequels, where much of the footage was shot against green screen, to allow the backgrounds to be dropped in later via CGI. Before the computing era, however, ILM was the master of oil matte painting, making audiences believe that some of the sets in the original Star Wars trilogy were real when they weren't. They were the work of artistic geniuses like Chris Evans, Mike Pangrazio, Frank Ordaz, Harrison Ellenshaw, and Ralph McQuarrie.
What was especially fascinating about these matte paintings, aside from the amazing quality of the artwork, were the occasional gaps in the artwork, where the live-action elements would take place.
One of the artcards for example, showed a parade of stormtroopers lined up…with a black cut out in the middle, where a smaller group of real actors would stand.  In the final scene on film, you don't realise that more than half of the stormtroopers you were looking at were actually painted.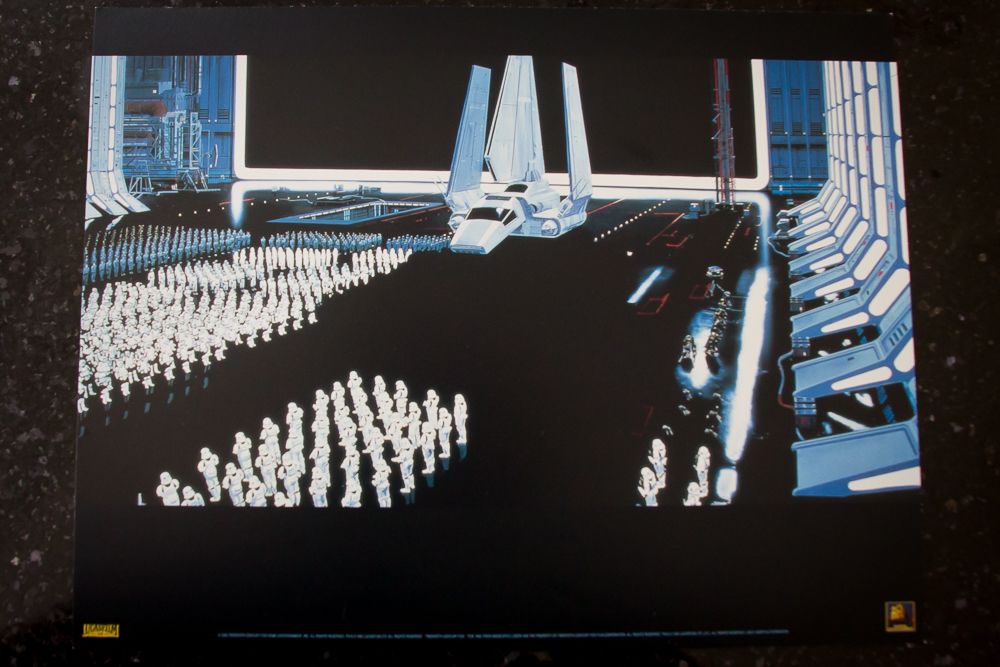 Another matte painting showed the exterior of Jabba's Palace from Return of the Jedi, with a black gap in the entrance to a cave, where a large toad would get placed in the final film. The twin suns of Tatooine also got added into the final filmed version. It's really amazing to think those shots in the films are basically just paintings.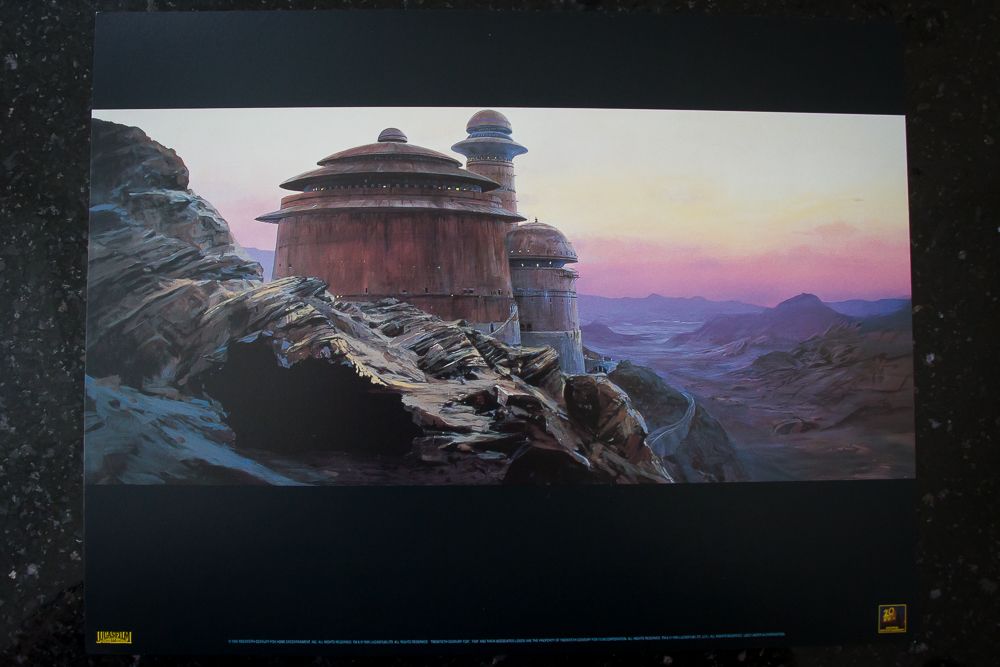 The Star Wars Trilogy Definitive Collectors box set was a real labour of love. and I'd sweated over it for many months, sourcing and designing various elements, gaining approvals from Lucasfilm of the contents for inclusion. The final resulting box was glorious.
Unfortunately though, we faced supply challenges with the manufacturer of the outer metal box (which was manufactured in France). They were unable to meet our delivery deadlines, leaving us no choice but to move the release date back. Originally slotted to release alongside the rest of the trilogy release in October, we needed to move the street date back to early December. Luckily this would still be in time for Christmas (or so we thought).
The release date was set for December 4, and to allow pre-orders to be taken, and to ensure accurate allocation of stock to particular stores, I produced special order pads for retailers to be able to take the pre-orders, and provide consumers with a confirmation that their box set had been reserved.
However, the manufacturer let us down again, telling us that they could only deliver half of the quantity ordered in time for our new December date, with the rest following soon after, but missing Christmas.
Unfortunately, when consumers came in to collect their Star Wars box set on December 4, some of those that had pre-ordered found to their horror, that their reserved box set was unavailable, and wouldn't be in stock before Christmas.
Consumers who were unlucky in collecting the box set pre-Christmas were not happy to say the least.  We even had a report that a member of staff at the Virgin Megastore had been spat at in the face by one particularly disgruntled customer, and that security had to be called to remove the angry customer from the store.
To help appease customers we printed special gift cards for retailers to give to consumers that had pre-ordered the item, that they could give to the recipient on Christmas Day, in lieu of the actual item. The gift card guaranteed that they would receive the set as soon as possible after Christmas.
The demand went through the roof for this collector's item, and it very quickly sold out and critical reception was very positive.
The 1995 Star Wars Trilogy Definitive Collectors Edition and 1993's Alien Trilogy Facehugger box were probably the most ambitious VHS box sets ever launched, and cemented Fox's reputation as the leader in producing premium, limited edition collector's box sets, that film fans clamoured for.
In addition to these two, the early 1990s saw the studio release an amazing array of premium boxsets. For example, Alan McQueen's gorgeous world cinema sets such as La Dolce Vita and Betty Blue, which were so lovely that I used that same format for my box sets of The Abyss Special Edition and The Longest Day 50th Anniversary Edition. The Abyss Special Edition by the way was notable in being the first (and possibly only?) boxset to be individually hand-numbered. Larger format box sets were created for classics such as The African Queen and The Sound Of Music, which were forerunners of the sets created a few years later for Titanic and Moulin Rouge. The fun in creating these, was always in finding interesting added value content that would appeal to fans of the particular films… whether it be scripts, CD soundtracks, art cards, lobby stills, 35mm film frames, badges, etc.
As ever though, times were changing.
In 1995, whilst millions of fans were buying the original Star Wars trilogy on VHS for the last time, and Lucas was beginning to write the next three Star Wars movies and tweak his three existing ones into Special Editions, Sony, Philips, Panasonic and Toshiba had finally thrashed out the specifications for a new digital home entertainment format that was to be called Digital Versatile Disc.
Within the next three years, the new DVD format began to roll out around the world, giving all the studios a fantastic opportunity to reinvigorate catalogue. More ambitious catalogue-based boxsets would be aimed at consumers… such as Planet Of The Apes, Predator and Alien Quadrilogy Heads.
The foundation for all these deluxe box sets, and subsequent Blu-ray box sets, had been laid down with those original VHS collectors' sets such as the Star Wars Trilogy Definitive Collectors Box.
Physical home entertainment is important to retailers and consumers alike. There is nothing that you can stream that beats that feeling of taking down a beautifully packaged box set of a favourite film or series from your bookshelf and enjoying the tactile feel of a collectible product that you know someone has taken time and care to make as beautiful and complete as possible.
Let's hope the industry doesn't move away from making these fantastic physical products too soon, as it runs fast to chase the download dollar.
As a film fan, I'm looking forward to owning (and hopefully maybe helping to create?) some incredible deluxe UltraHD 4k Blu-ray box sets over the coming years…
• To get in touch with Steve Collins, who is currently seeking employment and consultancy positions in and around the industry, contact him on sacollins@btinternet.com
Tags:
catalogue
,
Fox
,
history
,
industry
,
marketing
,
special editions
,
star wars
,
VHS