A Vote Winner
Wednesday, September 16 2015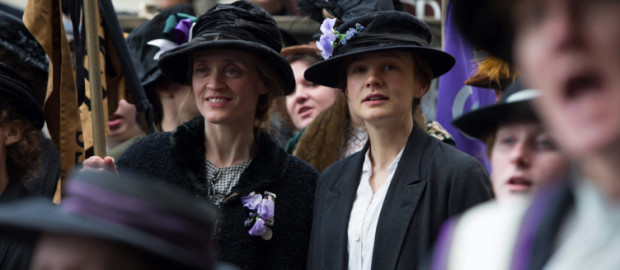 Never one to rest on its laurels and after successfully targeting other sectors of the business, the Industry Trust has now targeted more female-skewed audiences for the latest addition to its Moments Worth Paying For campaign.
The profile of Suffragette has been building in the UK for some time and is certain to grow ahead of its high profile premiere – it's opening the London Film Festival – and big theatrical bow approach (it's due at cinemas on October 12).
Previously, the Industry Trust's award-winning and hugely influential campaign, which aims to convince consumers of the benefits watching films legitimately and, more recently, directs them to find ways of watching product legally, at home or in cinemas, on all formats, has gone for younger audiences and films that target the core illegal downloading audience – younger males.
But Sufragette takes the message even further.
As Sylvia Wan, the Industry Trust's digital communications manager says: "This year alone we've attached Moments messaging to Magic Mike, Inside Out and now Suffragette. This is a great working example of how content used in the right context, helps push our key messaging to a wide variety of audiences, without overtly finger wagging, which is crucial when it comes to changing behaviour."
The Trust's chief executive Liz Bales added: "Sixteen to 34-year-old males continue to be the core infringers of film and TV content. Research shows that women in the same age group are increasingly found to be doing the same and so we must collaborate on titles that feel relevant to that audience if we're to inspire them to choose official film and TV."
More comment came from Pathe, whose Chris Besseling notes: "The story of the Suffragettes is a key moment in history and an important story to tell. The film's inspiring and empowering message felt like a strong fit for the Moments Worth Paying For campaign and we're excited to be working with the Industry Trust on our first collaboration. Pathé understands the importance of educating audiences about sites like FindAnyFilm, where they can legally find their favourite content in cinemas, on disc and digital."
Suffragette producer Faye Ward adds: "It has been a huge privilege for me, to be part of the British film making team who have brought this incredible story to life. Great storytelling has the ability to inspire audiences to change not only their beliefs but their actions, so partnering on the Moments Worth Paying For campaign enables us to inform film lovers and highlight the importance and value of creativity."
Tags:
ad
,
Industry Trust
,
Piracy
,
Trailer
,
Trust