Star Wars 1995: Global Domination
Wednesday, September 2 2015
In the second part of what will now be a three part series, former Fox marketing executive Steve Collins follows on from looking at how the 1994 Star Wars VHS release set the template for the rest of the world by looking at global plans for a VHS release the following year, how George Lucas outlined his plans to retailers at Skywalker Ranch, how Fox built an X-Wing to take around the country and how it hosted what still ranks as one of the finest video launch parties ever held…
1995 was an incredibly exciting time to be at Fox, with numerous changes that would take the home entertainment arm to massive new heights. In 1994, Bill Mechanic had joined the studio (from Disney), as its chairman and chief executive officer, and in addition to building an incredible film slate, one that would, over the next couple of years, see Fox have the worldwide number one films of both 1996 (Independence Day) and 1997 (Titanic), he was a huge driver of the home entertainment divisions.
In 1995, Fox Video changed its name to Twentieth Century Fox Home Entertainment and set up a new European office. Creative services support from LA was increased to offer greater assistance and achieve more consistency across markets for future campaigns.
The success of my 1994 UK marketing campaign for Star Wars was so phenomenal, with more than 1.1 million units sold in just a few weeks, that even before the year had ended there were discussions about repeating the initiative the following year, but this time on a global basis.
Rumours of new films on the way from George Lucas had helped to drive interest levels to new highs, and it was clear that there was still huge untapped potential with Star Wars. With the right marketing, there was no reason that we couldn't make the franchise as essential an addition to families home libraries as any Disney classic.
Seventeen years had passed since the release of the first Star Wars in cinemas, meaning that the young adult audiences of the 70s were most likely now parents. So as well as tapping into nostalgia from these older audiences, we now potentially had a new generation of kids and teens that could be reached.
Fox set about putting in place not only its first international home entertainment marketing campaign, but also the most aggressive campaign it had ever undertaken for a video release.
All the key ingredients from the 1994 recipe for success were put in place… but now, with the advantage of both global focus and scale, along with increased support / participation from Lucasfilm, it was improved upon and extended… with a few new ingredients that would guarantee unprecedented success.
Some of the key elements for the 1995 release included:
New THX-Approved Masters: It was clear that one of the drivers for the 1994 success was the big improvement in picture quality that the remastered tapes had offered. For the 1995 release, and for the very first time with the VHS format, Lucasfilm's THX division would oversee and certify the quality of the home entertainment masters and approve samples of VHS tapes prior to mass replication to ensure the best possible quality. This became a huge selling point. New THX-approved masters, in PAL or NTSC, depending on your country, would provide a new benchmark for home entertainment quality from the VHS format. The differences to the masters were noticeable – improvements to both the picture and sound quality, ensuring an optimal home experience.
New Key Art(s): For the 1994 release, I'd created new packaging utilising existing theatrical artwork, which included the work of artists like Drew Struzan, one of the most famous of the Star Wars poster artists.  For the 1995 release, we had something even more exciting:  Brand new key artworks especially commissioned for this release from John Alvin, one of the movie industry's greatest poster designers.
Sadly no longer with us (he died in 2008), Alvin's work is legendary… he created some of the most iconic and enduring art in cinema… with well over 100 movie posters to his credit ranging from E.T. to Beauty and the Beast and The Little Mermaid, from The Lion King to Blade Runner. He also created those amazing posters for Blazing Saddles and Young Frankenstein. He was a true genius.
Alvin created new key arts for the Star Wars Trilogy International release, with beautiful bold rich colours and a similarly themed compositional structure running through the designs. They were bright and eye-catching and yet still timeless and obviously part of the Star Wars universe.
As before, the widescreen editions of the VHS would have different artwork from the fullscreen versions. The full screen tapes used Alvin's new artwork. The widescreens took a key character from the artwork, and incorporated an inset picture from each film, in the 2.35:1 aspect ratio, to better communicate the widescreen aspect of the release.
Trilogy Box Sets: We'd created just one simple trilogy pack for the 1994 release. With the 1995 release, we had no fewer than four different box sets. Three of these were relatively simple rigid card box designs, one featuring the John Alvin artwork, plus boxes featuring Darth Vader and a StormTrooper. The reason for these three boxes, was to offer a simple trilogy pack at a keen price, and to allow retailer exclusive options.
For the true fans however, there was the high end and very limited deluxe definitive metal box that had all sorts of goodies. (This will be covered in more detail in part three of this feature.)
Talent Support: Carrie Fisher (Princess Leia), Billy Dee Williams (Lando Calrissian), Dave Prowse (Darth Vader) Anthony Daniels (C-3PO), Kenny Baker (R2-D2), as well as George Lucas, were among the increased number of talent that gave magnificent support for the global launch.
Carrie and Billy Dee gave almost a week of their time to provide UK media appearances including much coverage on TV, radio and press.
To be fair, the sight of Carrie Fisher and Billy Dee Williams participating in a game in the garden of The Big Breakfast, with Keith Chegwin ("Wake up you beggars, it's Cheggers!"), was a little surreal – but on the plus side, at least Cheggers had his clothes on…
On top of these ingredients that were familiar to the earlier launch, there were some new elements that helped bring a genuine event feel to the release:
The Original Trilogy…For The Last Time One of the ideas that resonated in the early days of retail video amongst consumers, was the notion of a limited time release. No better was this demonstrated than in the event release programme that Disney operated. Once or twice a year, Disney classics would be released from their vaults for a limited time, to then be withdrawn, and not made available again for years. By 1995, Disney had successfully launched and then placed on moratorium around 20 titles, including big hitters such as The Little Mermaid, Snow White and The Jungle Book. With unbelievable video sales on their classics, that no other studio at the time was even coming close to, it was clear that this limited-time release strategy was a key part of their success, driving incredible consumer momentum and urgency to purchase.
Having announced to retailers that he would be creating a special edition of Star Wars, to add in extra footage that he had been unable to do at the time, due to limitations in technology, George Lucas had also effectively given the studio a very powerful opportunity. 
And so, the final, and possibly, most important piece of the core marketing strategy could be put into place:  The 1995 release would be the last time that the original Star Wars would be available on video. Not only that… but this would be a very limited time releas, with the release being placed on moratorium from January 1996. 
All of this was fantastic… but HOW do you go about trying to convince the UK retail trade that a re-release of the Star Wars titles on VHS, only one year after the record-breaking release in 1994, would achieve EVEN BIGGER volumes?
It's 20th April 1995. I'm looking into an open warehouse and in front of me are: the Death Star, the Millennium Falcon and Han Solo frozen in carbonite.  The actual ones used in the films. On my left is the original Darth Vader costume, standing next to Chewbacca. Here is R2-D2 and  over there, C-3PO. There are costumes, weapons, matte paintings, lightsabers. This is fan-boy paradise right here.  We are literally at Geek Ground Zero: The Lucasfilm archive on Skywalker Ranch.
Almost exactly one year earlier, I'd been excited to be looking at Star Wars imagery in the BFI archive in preparation for the forthcoming re-issue. Now I'm in Lucas' Skywalker Ranch, a 3,000-acre secluded production facility located in San Rafael, 25 miles from San Francisco. Named, obviously, after Luke Skywalker, the ranch is the business and production hub of the Lucas' empire.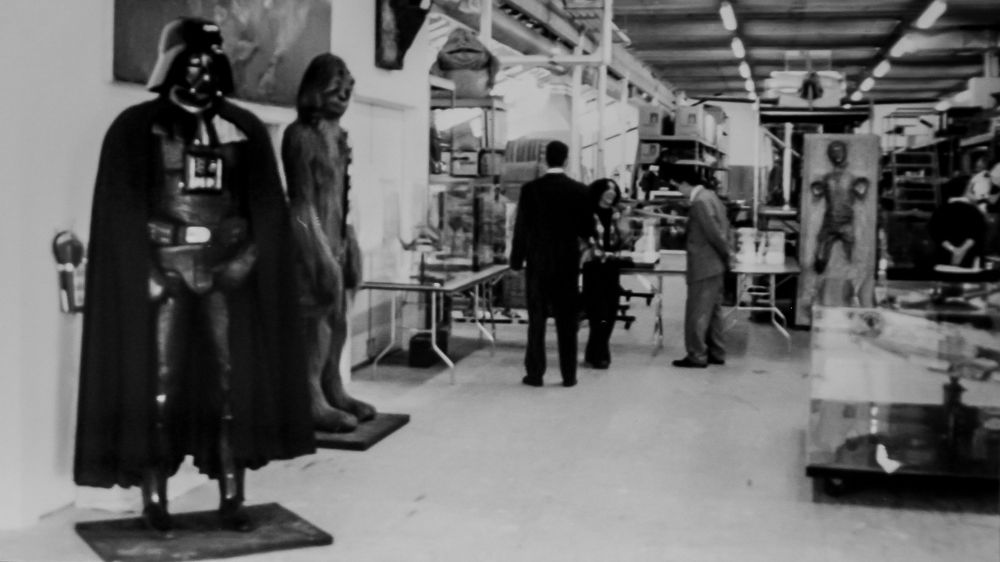 We have come here with a number of key retailers from around the world, including numerous key buyers from the UK, as part of the 1995 trade launch for the Star Wars titles. The coaches have travelled for an hour or so outside of where we are staying, near Napa, finally moving up Lucas Valley Road, to enter George Lucas' Skywalker Ranch. This is one of those days when you want to remember every single moment that happens… somehow find a way to etch it into your retina.
In addition to the Lucasfilm archive, where all these amazing props and costumes are displayed, not just for Star Wars, but also the Indiana Jones franchise, we enjoyed a tour of Skywalker Sound.
For more than a generation, Skywalker Sound has created soundscapes that have redefined aural immersion. With its origins based in Ben Burtt's landmark work on 1977's Star Wars, Skywalker Sound specialises in sound design, mixing, and audio post-production across multiple mediums and is one of the world's most innovative facilities. They had been responsible for the sound of the thunderous footsteps of the approaching Tyrannosaurus Rex that audiences saw rippling a glass of water, in the previous year's Jurassic Park (which was then the biggest film of all-time).
We had presentations in the lovely THX-approved screening room situated in the main building. We were shown historic footage and facts celebrating the phenomenon of Star Wars and its legacy, and some info on the amazing release to come.
We were then introduced to George Lucas himself – who came on stage and told us of his plans to create three more films. This was already known – and in fact, Lucas' had begun officially writing the follow-up films in October 1994 – just a month after our 1994 Star Wars launch. In November 1994, he'd given up the day to day running of the operation, to focus on writing. 
He told us these were well underway, with a fully developed story arc, and would take place before the events in Star Wars: A New Hope  – they were going to be prequels.
He then gave us an exclusive announcement – he had just agreed with Fox, that he would go back to Star Wars: A New Hope, and make some changes to the film, in order to improve a few things that had always bugged him at the time, but that due to a mix of budget issues, deadlines and technology restrictions, he'd not had chance to fix. This would also allow him the opportunity to put back into the film a key sequence, which he'd filmed, but that never made the final cut. This was the sequence of Jabba the Hutt intercepting Han Solo before he enters the Millennium Falcon at Mos Eisley and asking Han for the money he is owed.  The original deleted sequence had featured Jabba the Hutt as a fat guy in a bearskin.  Clearly this Jabba looked nothing like the huge slug-like creature as seen in Return of the Jedi. But now, advances made by ILM in CGI – as seen in the previous summer's Jurassic Park, would allow Lucas to go back and digitally remove the man in the bear-skin, and replace him with a CGI-created Jabba. The key challenge for ILM was how to create the footage so it doesn't look like Harrison Ford walks through Jabba's tail. As we know, they manipulated the footage to make it look as though Han Solo steps on Jabba's tail as he walks around him.
This special edition of Star Wars would be released in cinemas in 1997, to celebrate the 20th anniversary of the original Star Wars release.
No mention was made by Lucas of special editions of Empire Strikes Back or Return Of The Jedi – so I would assume that decision came later in the planning.
To our audience, this was extremely exciting news – and to be hearing it from George Lucas directly, in his Skywalker Ranch was probably as close to being at the centre of the Star Wars universe as it's possible to get.
Now, with hindsight, we know how the special editions eventually turned out, and while some of the 200 plus tweaks and technical improvements may have been justified, there were just as many that turned out to be unnecessary, and in some cases (Greedo firing first), downright maddening.
But that is with hindsight… and right now, we, and more importantly, the retail trade, were fired up for what promised to be an exciting few years ahead. And the prospect of a new special edition of Star Wars coming blew us away.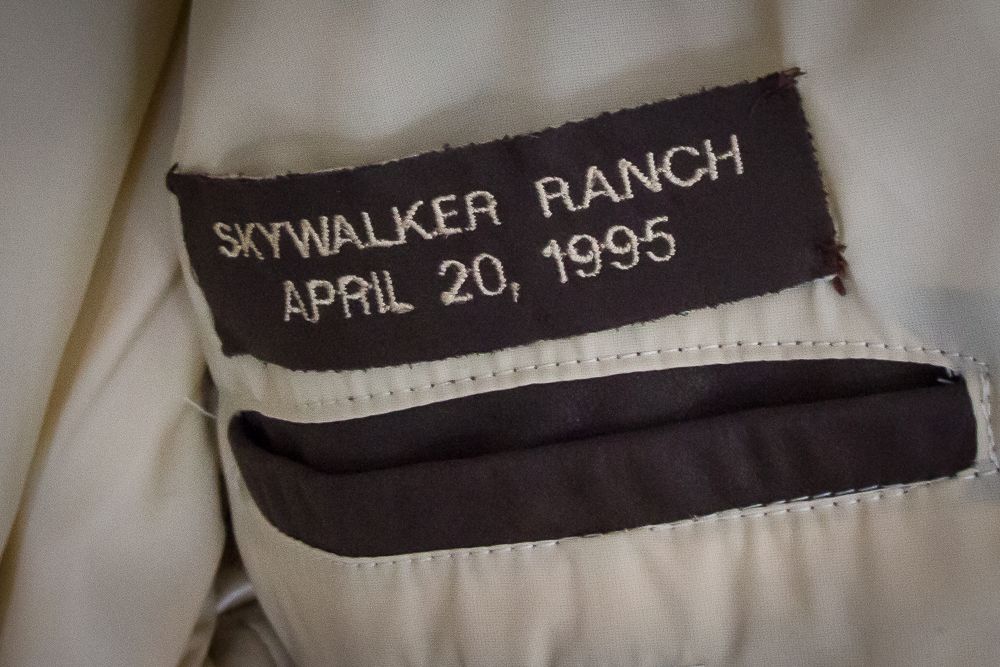 It had been a tremendously exciting day, and to top it all, we were all given a gorgeous leather jacket, featuring an embroidered X-Wing fighter logo on the back, and on the inside, a tag with SKYWALKER RANCH 20TH APRIL 1995 stitched in.  A very nice touch, and mine remains a treasured item in mint, unworn condition!
"I know someone who can build an X-Wing".
It was one of those kinds of statements, which, being said in an idea-generating session, might normally be discarded. Not this time. Our German marketing director was being deadly serious. He knew someone – and he was sure that his contact could build numerous full-size X-Wing fighters, with Lucasfilm approval, so that we could use them across the globe, as part of an unprecedented PR blitz.
It's the kind of blue sky idea that sets the mind racing. 
Wow – think about how mind boggling that would be. Nobody has seen anything like this before… not even with the theatrical releases. Full-scale X-Wing fighters, that could be toured around countries, used on TV appearances, store openings, perhaps even media competitions with a chance to win one!
Then of course, once your mind has explored those endless fantastic opportunities, the reality of logistics hits. How to transport these across the world and around the country? Timelines? Costs?
So it is, around a month or two before release that we are weighing up the options for and against buying or renting an articulated lorry. We need a large lorry with a huge container, big enough to take a full-scale 30ft long replica of an X-Wing Fighter. 
Not only that, we have a Darth Vader and numerous Stormtrooper costumes.  Each of the half dozen countries that had an X-Wing available, built plans to utilise this phenomenal asset as part of their local marketing plans.
In the case of the UK, we created The Imperial Invasion Tour, which would see the X-Wing taken around the country, to huge shopping centres, like Lakeside (Bluewater didn't exist then), or new store openings for flagship retailers. The X-Wing was also a top attraction at the Live 95 consumer show, reaching hundreds of thousands of consumers. In total, the Imperial Invasion Tour played 64 shows at 21 destinations across the country. The tour publicity alone achieved an estimated 118million impacts valued at £1.5million. 
The 1995 Star Wars Trilogy campaign was Fox UK's most ambitious and comprehensive marketing spend ever up to that point, at more than £1.7m (Not adjusted for inflation… so equivalent to much more now).
The scope was immense. The above-the-line media spend was more than £1 million. That bought a month's worth of cinema advertising, in addition to an enormous TV campaign, comprising of seven different creative spots booked into peak slots on ITV, Channel 4, GMTV and satellite; programming such as Coronation Street, Big Breakfast, premiere movies and sport.
Meanwhile, exciting, week-long radio promotions ran on Virgin, BRMB, Clyde, Capital and Piccadilly.
Carrie Fisher, Billy Dee Williams and Dave Prowse attended the star-studded European launch party at the Alexandra Palace, which was one of the video industry's biggest ever parties. A specially recorded video message from George Lucas was played to the audience, followed by a live address from Carrie Fisher. The X-Wing fighter was proudly displayed. Stormtroopers and Darth Vader paraded around. Once the music and drink was flowing, numerous characters from the famous Cantina scene from Star Wars circulated the room.  The event was as spectacular as any theatrical post-premiere party.
In terms of stores, stunning POS included 7,000 life-sized standees of Darth Vader and Stormtroopers, dominating 4th quarter shop displays. Once again, the standees either began disappearing quickly from stores, or had reserved notices on the back.
As with the previous year's release, the consumer demand took us by surprise…surpassing even our most bullish expectations. Some retailers were very surprised…. they didn't believe we would reach the heights of the previous years release, when in fact we almost doubled those sales.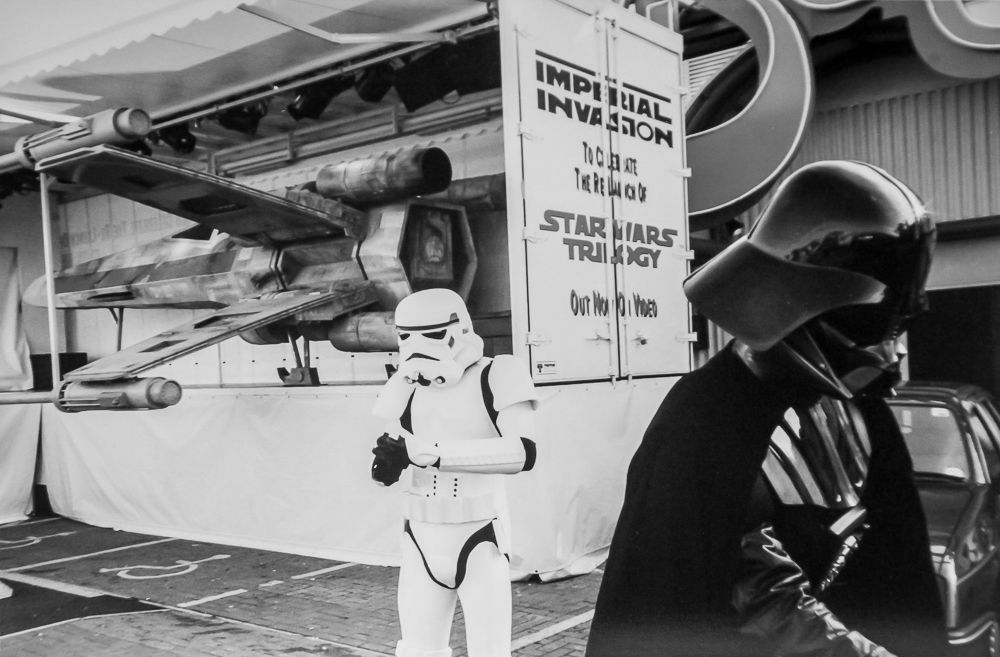 Again stores were struggling to keep all three films in stock, especially the closer we got to Christmas.   Replenishments were crazy. The three different rigid trilogy boxes sold out quickly, and we decided to re-order these.  This was a logistical nightmare, due to the longer lead-times needed to produce these rigid boxes; where the artwork is printed on sheets, foil embossed, and then mounted onto rigid box board.  Longer lead times, and of course, they are not flat packed, and so take up a lot of space in the distributor's warehouse…not ideal during the last few weeks of the year.
By the time we reached year-end, another 1.8 million units of Star Wars films had been sold to UK consumers, and worldwide, over 27 million VHS units had shipped, making the release at this point, the world's biggest live-action release of all-time.
In early 1996, retailers were given once last chance to order, and then the titles went on moratorium. 
As it turned out, this was a permanent moratorium for these original versions of the films.  In the coming months, it was revealed that Lucas would be making changes to all three of the films, and these would be released theatrically with a huge marketing push, to celebrate the 20th anniversary of the franchise.
The original versions of the trilogy never appeared on VHS again.
Going forward, future releases of the film would be 1997's  "special edition" versions. 
Unbelievably, it took until 2008, before the original trilogy films appeared again, briefly, as bonus discs for one of the DVD-reissues.
As a huge fan of the franchise, I hope that one-day we'll see the original, unaltered versions of the trilogy in Hi-Def and packed within a fabulous deluxe box set.
• In Part 3, Steve takes a detailed look at the incredible S. Executor Deluxe Metal Box Set of The Star Wars Trilogy, that, along with 1993's Alien Trilogy Facehugger Box, not only set the benchmark for high-quality VHS collectors sets, but led the way for some of the incredible high-end DVD box sets that followed in the next decade.
•• To get in touch with Steve Collins, who is currently seeking employment and consultancy positions in and around the industry, contact him on sacollins@btinternet.com
Tags:
catalogue
,
Fox
,
history
,
industry
,
marketing
,
special editions
,
star wars
,
VHS