A Long, Long Time Ago… Star Wars On VHS
Friday, August 14 2015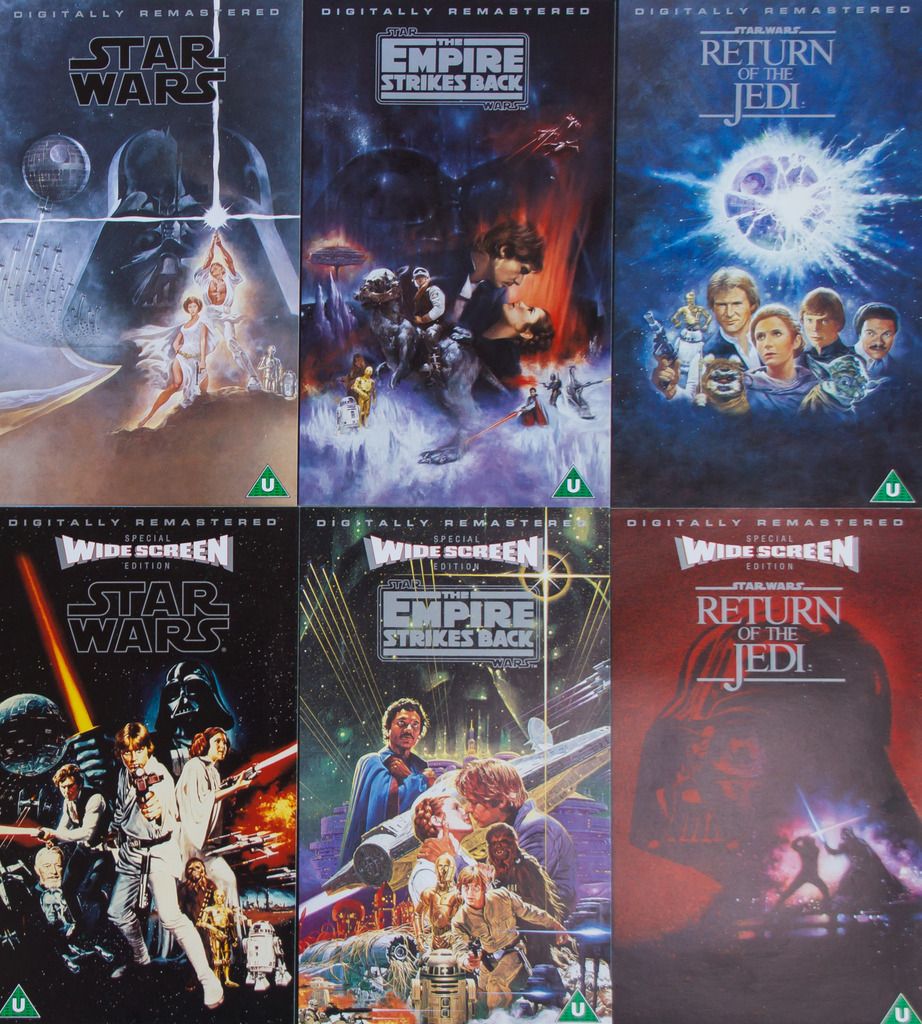 The news that the original series of Star Wars films, along with the subsequent additions, are to get another lease of life in newly-packaged Blu-ray editions means yet another re-release for George Lucas' films. The six, and in particular the first trilogy, have been mainstays of the home entertainment market for more than quarter of a century.
But not only have they been regular fixtures in our stores for years, the films have been pioneering releases in terms of packaging and strategy for years too.
The remastered trilogy releases marked the UK out as a leader in its field when it came to pushing new formats and ideas – the plans from here provided the blueprint for similar campaigns around the world, even the USA.  Additionally, the Limited Edition metal box set, which came out in 1995, provided the template for lavishly packaged sets complete with a raft of extra materials and goodies that still exists to this day.
Star Wars fan and industry veteran Steve Collins, most recently working in the international marketing department at Universal, was at Fox during the VHS Star Wars heyday, putting together the UK's 1994 remastered Star Wars launch, which was so incredibly successful, that it led to the even bigger global launch a year later that was supported by one of the biggest marketing campaigns the industry had ever witnessed for a catalogue release – which included seeing retail buyers taken to Lucas' own Skywalker Ranch, full-scale X-Wing fighters touring the globe and a reuniting of talent at a spectacular launch event at the Alexandra Palace (still one of the best parties the industry has ever witnessed).
As well as handling the marketing campaigns behind the '94 and '95 VHS releases, Steve also managed the European marketing campaigns for the subsequent prequels, as well the first DVD release of the Special Edition Trilogy.
As the original films get another bow, in this two-part feature he looks back on being a fan, and those groundbreaking VHS releases…
Part One: Star Wars Trilogy – 1994 remastered VHS
It's a long, long time ago – spring 1994, and I'm spending a lovely hour going through all the Star Wars images and posters available in the BFI archive. I'm looking for interesting images and potential key arts that I could potentially use for the new sleeves that I'm creating for a forthcoming re-issue of some of the biggest and most-loved movies in history… the original three Star Wars movies. Definitely one of those moments you have where you pinch yourself and remember how much you love your job in home entertainment. Even more so in my case, being such a massive Star Wars fan.
Like so many of my generation, I was hooked on Star Wars for months before I ever got to see it.
Star Wars opened in the US in May of 1977, and slowly built to become the phenomenal hit of 1977. By the late summer, the film was taking $12m box office a week… and the film kept growing in popularity, hitting $100m gross by early August, and almost $200m by year end, eventually going on to become the biggest film of all-time (until ET came along).  Everyone was talking about this amazing film that was astounding American audiences.
In October 1977, a spin-off: Star Wars Theme/ Cantina Band by Meko reached number 7 in the UK singles charts. This was a massive disco hit (the other phenomenon of 1977 in the US being Saturday Night Fever – marking the mainstream arrival of disco). It meant everyone knew the Star Wars theme tune literally months before the film arrived on these shores.
That Christmas, Santa gave me both the George Lucas paperback novel of Star Wars as well as the John Williams scored Original Double Soundtrack album on audiocassette. This latter item was played so often that the tape eventually stretched, introducing much wow and flutter to the symphonic proceedings, and rendering it virtually unlistenable.
By now, I was getting desperate to experience this film – having also been wowed by the clips that I'd seen on ITV's film review show Clapperboard.
On February 8 1978 (the day before my 14th birthday), issue #1 of Star Wars Weekly – Marvel's comic adaptation was released, and I eagerly became an avid collector, adding this to my already growing Marvel collection. I actually had the honour of having a letter to Star Wars Weekly being chosen as "Letter of the Week" in issue number 10 (for which I received that staple 1970's must-have accessory – a denim sew-on patch – of the Star Wars logo. A collector's item no doubt, that I still have somewhere).
Then, at last, in February 1978, many, many months after I'd first been excited to hear about this movie, Star Wars finally reached regional UK cinemas nationwide, and I queued, like everyone else, right round the block, at my local ABC Cinema (Grimsby).
Of course being a teenage boy, I was blown away by the film.  How could you not be?  Nobody had ever experienced a film like this before…it was (and remains) a cinematic masterpiece, and a life-changing moment personally.  That opening scene, with the Imperial Star Destroyer entering the frame… then getting bigger… bigger… Oh My God! That was a moment for which cinema was made.
Fast forward to 1994, and little did I know that the campaign I was about to pull together for the first big, TV advertised, launch of Star Wars on VHS, would have an impact, not just on event marketing of catalogue titles… but also on the Star Wars universe.
Within the next 18 months, we were about to sell more than 3.6 million units across the saga in the UK alone, and many multiples of that globally; witness the last release of the original trilogy; and set the anticipation for a future launch of new special edition versions of the Star Wars movies to celebrate the original's forthcoming 20th anniversary.
The idea for the 1994 VHS re-launch came from Simon Hewlett – who was then, UK sales director for Fox Video [he's now evp for international marketing for Universal Pictures International]. He'd noted that the three Star Wars titles had never actually dropped out of the charts. There were always hanging around the lower regions of the VHS Top 100 retail chart… usually selling a few hundred units a week. Every week. Without any promotion. Imagine, he asked, what we could do if we actually launched the Star Wars titles properly… and TV advertised them. Treated them like we would treat a major new release.
It's worth remembering, that back then the video market was very different to today. Rental was still king… driving the bulk of the revenue and profits on a video release. There were also long windows in place… typically five to six months from theatrical to rental, and often up to another 6 months before the retail release. It was not uncommon for the retail release to take a full year after theatrical before hitting retailers' shelves.
Back in the early 90s, very few titles had sold more than a million units… and they mostly comprised of Disney's animated event titles…or one of a handful of big straight-to-sell through releases. These were beginning to show the massive potential of retail upside, if the rental window was removed.
Indeed, later in 1994, Fox Video UK released its first major straight-to-sell through release, the Robin Williams comedy smash Mrs. Doubtfire. It proved equally ground-breaking for the studio, helping to influence release strategy and campaigns for the tentpole smashes that followed over the next few years including Independence Day, The Full Monty and Titanic. But for catalogue titles, outside of Disney's classics, there had been relatively few massive hits.
Fox Video's biggest catalogue title at that time had been The Sound of Music, but that hadn't (yet) reached 1 million units across its lifetime.
We definitely saw potential in a big reissue of the three Star Wars movies, giving them a proper launch. But initially, there was no specific consumer angle for the release. There was no anniversary (we were still three years away from the 20th anniversary of Star Wars) … and we needed a hook to help create the event and give consumers the reason to buy.
On reviewing the existing VHS tapes, however, it became clear that there was a huge opportunity to improve the picture quality. The old tapes had been mastered back in the late 80s, standards converted to PAL from NTSC transfers (a common practice across studios back then, especially on older titles) and were definitely not up to the quality of more recent direct-PAL transfers.
Even more recent widescreen VHS releases of the trilogy from 1992, had been transferred from NTSC source masters. 9Those widescreen VHS releases of 1992 by the way were ground-breaking, demonstrating that there was a strong market for films being presented in their original aspect ratio, and that not everything had to be released in pan and scan 4:3 aspect ratio. They appealed to both film fans, who appreciated the original theatrical composition, and also to the ever-increasing number of owners of new-fangled 16:9 widescreen TVs that were beginning to make an impact in the early 90s. It also allowed, of course, substantial re-marketing opportunities for catalogue.)
Around the same time that we were contemplating the reissue on VHS, across the pond, American LaserDisc fans had just enjoyed the release of a deluxe LaserDisc Box Set of the Star Wars Trilogy. This was magnificent – a huge, and very heavy, black box containing all three films, remastered for improved picture and sound by Lucasfilm's THX division. The critical acclaim for this box set was phenomenal.
We knew that if we could get new PAL transfers for our releases, using the same source masters as this amazing LaserDisc box set, this would be a huge opportunity.
So here was the perfect hook for the release – the original trilogy, available in both fullscreen and widescreen, with newly remastered transfers.
Our job was to remind people how much they love these films and that they are must-own titles for a home library. We needed to show them how spectacular they look now.
As I began planning the release, various campaign scenarios were built, bottom up, to see what we would need to do to ensure that we could afford: new masters, an appropriately-sized above-the-line campaign, including TV advertising, decent PR and in-store support with fantastic POS.
Using a combination of imagery sourced via Lucasfilm and some from the BFI archive, new packaging artwork was created – six sleeves in total, three for the fullscreen and three for the widescreen releases… along with a Trilogy box set, featuring Darth Vader's mask as the key art.
I used variants of theatrical key arts for all six SKUs, selecting art that was a mix of familiar, alongside some more esoteric, collectable pieces to maximise fan appeal.
I was particularly pleased that on the widescreen version of Return of the Jedi, I was able to use the original art from the extremely rare Revenge of the Jedi poster (although we obviously didn't use that title). The initial print run of sleeves was double-sided, with rare images and posters on the reverse to further appeal to fans and we used silver foil on the title treatments to enhance the on-shelf appearance and add to the premium feel.
From a PR perspective, we reached out to UK-based talent and helping us with interviews, TV and radio appearances and signed merchandise, we were grateful to benefit from participation from Anthony Daniels (C-3PO) and Dave Prowse (who signs everything "Dave Prowse IS Darth Vader").
We also heavily engaged with the technical video press… the likes of What Video and Home Cinema Choice, it was important that home cinema fans were made aware of the huge leap in quality that these re-mastered versions would provide.
For point of sale, to create real impact in-store, I developed gorgeous life-size standees of C-3PO and R2-D2, as well as a beautiful A1 sized poster, which combined three theatrical artworks for the saga into one image, which we then enhanced further with the Star Wars Trilogy logo in silver foil. They looked fantastic – and Anthony Daniels signed a small number that we used for competitions and key customers.
The standees, where you could find them, looked incredible… however, they disappeared pretty quickly. I remember visiting stores and finding on the back of the standees there were reserved notices with people's names on. I'm confident that none of these standees were thrown in a skip, they all managed to find a happy home somewhere.
The release date of the VHS reissue was set for early September… a relatively quiet time for retail, allowing the titles to dominate in-store during release month. It was important though to ensure that this release, comprising of catalogue titles, had a long tail and continued to have strong visibility and sales throughout the crucial Christmas gifting period.
So the TV campaign was structured to give us coverage for around six weeks from launch.  Rather than being too front-ended, it was important to have reminder spots running through key shopping periods throughout Q4. Co-op spend was also weighted to allow an uplift of support around Christmas gifting.
In the early 90s retail sales typically back-ended to Saturdays –much more so than now – due to the majority of our big customers being high street retailers (Woolworths, WH Smith, HMV, Virgin, Our Price, Menzies etc). Saturday sales were critical.
This influenced the way we bought programming. So for example, one of the programmes bought was ITV's very popular Saturday morning The Chart Show. We ran spots in that show over a number of weeks, ensuring we were reaching audiences during the morning of the biggest shopping day of the week, running through Q4.
Supporting the TV campaign, we ran national 30" radio spots, heavily featuring the iconic Star Wars theme music, and pretty much guaranteed to leave you humming the tune all-day long.
The 1994 release of the Star Wars Trilogy was a big success…with initial sales way ahead of expectations.  But what happened next was astonishing: the sales kept going, week-in, week-out. We were replenishing like crazy, stores kept running out of stock. We struggled to keep up with demand.
We had believed our expectations going in had been pretty aggressive… a huge increase on our previous annual sales of the titles – and a goal that would have already made the release easily one of the biggest live action catalogue releases of the year.  That would have been a very solid result.
But this thing kept going.
By the end of the year, the combined sell through volume across the three films ended up going past 1.1 million units in just over three months. This was the biggest live-action catalogue release that the fledgling sell through business had seen to date… only the Disney catalogue releases had been bigger.
The Force was indeed strong with the trilogy.
But it was about to get a whole lot bigger…
*Next week: George Lucas and the rest of the world, including the US video market, take the UK idea an turn it into a global VHS hit, the creator reveals his plans for the special editions to retailers and the box set that launched an entire phenomenon…
**To get in touch with Steve Collins, who is currently seeking employment and consultancy positions in and around the industry, contact him on sacollins@btinternet.com
Tags:
catalogue
,
Fox
,
history
,
industry
,
marketing
,
special editions
,
star wars
,
VHS