Uwais There
Friday, August 22 2014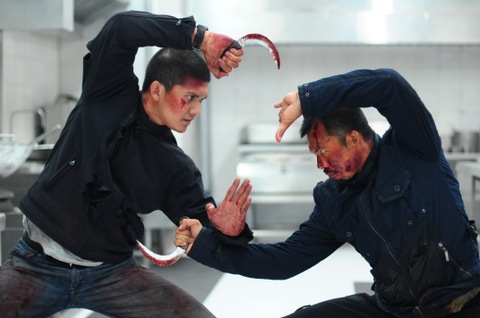 With a spectacular first week of sales under its belt, The Raid 2 has proved to be a worthy successor to Gareth Evans' first action opus.
The brace of The Raid films has had all kinds of positive spin-offs, not least the 280,000 units of the first film sold by fist Momentum and then, after the acquisition, eOne. The Steelbook of the first film now fetches big bucks on eBay, while soundtracks have also performed well and a whole industry has built up behind it (see limited edition posters and the likes). Oh, and creator Evans has become a name director, while Hollywood is gearing up for a remake of the first Indonesian film.
But the first Raid film, superlative as it was, needed some help in coming to market and that's where first Momentum and latterly eOne have excelled. How did the fiercely independent companies manage to turn what may look like a hard sell – it is an Indonesian film after all – into a £1 million plus box office and then home entertainment hit?

Momentum staffers first saw The Raid at a film market. As former Momentum home entertainment executive Adam Eldrett recalls: "I was sent seven minutes of the Raid while the acquisition team were at market. I have lived and breathed action movies and Asian cinema all my life but it was clear very quickly this was something very different. This was taking some things to a new level."
When Eldrett and his colleagues finally saw the finished thing, it lived up to that clip too.
"Based on seven minutes I was told that basically the rest of the movie had the same pace, once this turned out to be true on viewing the whole feature we were pretty much blown away," says Eldrett. "It was relentless, truly relentless, it does not stop, it gets better and better. Clever set pieces, some tongue in cheek laughs and Evans found his muse in Iko Uwais a man I did not actually believe was as fast as he was until I saw him in person. It was like those old Jackie Chan films, you wonder if they sped the camera up but no..he really is that fast.
"Combining some of these elements what really came through to me is the choreography was near perfect, knowing Asian fans would go crazy for it I knew it has some potential but maybe at this stage not the wider property it became."
The enthusiasm was shared across the company. Former theatrical marketing executive Hamish Moseley, now at Altitude, sums up his reaction in two words: "pure joy". 
"The film was thrilling all the way through," he continues, "I remember high-fiving Adam Eldrett at the end purely because we'd had such a good time. It's always a great feeling to be reminded of why we love films and this was one of those times."
The company's enthusiasm for the film saw its release strategy change. "I couldn't claim to know then that it would go on to do what it did commercially and culturally. We knew it was special straight away of course and that we had the luxury at that time at Momentum of being able to fully back a film to hilt if we wanted to. The film was picked up as straight to DVD release initially but enough of us loved the film to say let's try to break this out in a big way."
Of course, that's not to say that there was no challenges, as Moseley notes: "No stars, no name director, very hard 18-rated violence, Indonesian language…  It doesn't shout £1m at the box office does it?"
"Obviously it's not in English," adds Eldrett, "and we operate in a market where foreign language films of all genres can still really struggle theatrically and on home entertainment. Thankfully our theatrical play paid off, critics came out in force and gave the film some rousing acclaim. It broke out of the art-house circles and started to become the action film everyone wanted to see.
"To truly 'get' that audience though we of course employed a few tricks, I think you can still hear me on the original trailer 'Go go go, we have a visual', English speaking elements that audiences could immediately relate to without the need for subtitles. For all its glory there is not actually much dialogue in the film anyway. A fairly simple message – 20 elite cops, 30 floors of hell, no way out gave a mainstream audience points of reference such as Die Hard to relate to."
Once the film was out there, word of mouth spread rapidly. But why did it capture the imagination? Seems as if its Welsh director working as a fish out of water in foreign climes really helped it. As Eldrett says: "What really excited me initially was Gareth Evans. Has a guy from Wales really made this film? There were all these echoes of John Woo, Jackie Chan, Panna Rittikrai, western directors have often been influenced by these directors but nobody has ever become one of them overnight."
Moseley concurs that Evans' back-story helped beyond the sheer quality of the film. "The film just speaks for itself. It's a thrill to watch and it's very pure and I think people got onboard with that, martial arts film fans or not. Gareth was a big part of it too of course. His is a wonderful story and his enthusiasm, talent and likeability is clear to all. I think everybody instantly appreciated him and wanted him to do well." 
The Evans factor was confirmed by PR executives at Fetch, whose team worked on both Raid films. The company's Almar Haflidason said: "It's been a great privilege to be part of The Raid phenomenon on the PR side and see how Gareth has gone from making an awesome first action movie to a sequel that truly merits the overused word 'epic'. It's a dream to work on these films because no matter what you promise the journalists that they're going to witness their reaction is always one of total shock and awe."
The first film was one of Momentum's last big success stories before it merged with eOne and the newly combined team knew it had a strong launchpad for the second and third Raid films.
"I don't think many companies would have taken this on to the level we did at Momentum, we embraced it and refused to look at the DTV route," says Eldrett. "We felt the theatrical platform would give the film some strong awareness and lead to a successful run at home entertainment. We were also very conscious of the fact Gareth was planning two more movies, we were setting up a franchise and as a result we supported it as much as we could."
It's obviously one of those films – and franchises – that people in the industry dream of working with. It "would be arrogant to think that only Momentum would have seen how special the film was and had the appetite to back it with such force, as I think most of us in the industry love to get behind great films when the opportunity arises," Moseley says. "We took the opportunity we had though certainly. We worked our arses off trying to get it front of people and to get everyone excited about it. Credit to the BFI for backing us to do that too of course. It was great to have the ability and backing to say, fuck it – let's put this little 18-rated independent Indonesian film out as one of the widest released foreign language films of all time."
Its theatrical release paved the way for the successful home entertainment release. As Eldrett notes: "A massive part of all of this was not the film, not the people releasing it but the FANS. We talked to them, we let them talk to each other, we found out exactly what they wanted and we delivered it. One thing Momentum always excelled at was special packaging, fan art become real art, which became a Steelbook and to date appears to be one of THE most sought after pieces of physical product out there in our industry. They still trade for triple the RRP after all this time.
Its home entertainment success has continued into the eOne era. "The Raid was a breathtakingly visceral action experience that captured the imagination of audiences using fresh and innovative filmmaking techniques," says the company's Stephanie Don. "Through a huge marketing campaign and incredible word of mouth it has sold over 280,000 units to date, and it remains unrivalled as a masterpiece of the genre."
Its campaign for The Raid 2 mirrored that of the first, although with improvements and additional elements. As Stephanie Don adds: "With the release of The Raid 2 on DVD and Blu-ray, we focused on targeting those fans who made the first film so successful.  We released two exclusive products – a blu-ray Steelbook with UK exclusive artwork by Jock, and a Blu-ray double pack with artcards featuring the 8-bit characters from the much-loved 'Raid Arcade' game. Along with a broadly male targeted media campaign encompassing heavyweight TV, digital and press activity, we also took over the Forbidden Planet stores for a month with posters, bags, t-shirts and trailers playing instore.  With a strong retail set up and PR activity that includes a double bill at The Prince Charles Cinema on the weekend prior to release, we are confident The Raid 2's release will continue to be every bit as successful, if not more so than the first."
So far, it appears, it's living up to that. As Stephanie Don told our weekly email newsletter: "We're incredibly pleased with the result so far on The Raid 2, proving that this release has really reconnected with fans of the first film. "
We'll leave the final words, however, to Adam Eldrett. He concludes: "Anecdotally one thing I have always loved about The Raid is how the word of mouth and review quotes were so strong you got people flooding into the cinemas who might not have seen a foreign language film before in that environment. These were action film fans that had heard about this film and had to see it for themselves, as a marketer it's often a real buzz to know audiences are reacting and taking a chance on something new…it's fair to say nobody ever told me they were disappointed by it."