Knife To See You
Monday, February 3 2014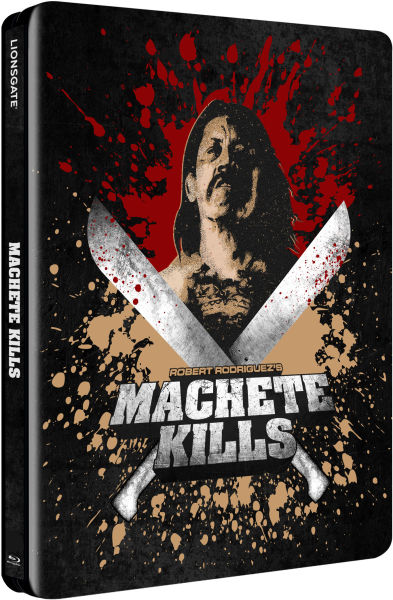 From doing time in tough US prisons and falling in and out of trouble with the law, to appearing as an unnamed heavy in action films, right up to starring in his own movies, Danny Trejo's career path has hardly followed a the normal trajectory.
And while he's not traditional leading man material – not least because of the vast tattoo emblazoned across his chest – Trejo has become a bankable star, especially when it comes to the video market.
He's now got his own franchise too, with a sequel to the first feature length Machete film, Machete Kills, due via Lionsgate on February 17.
So what does the Mexican-born star, a distant cousin of director Robert Rodriguez, bring to the proceedings? "Danny Trejo brings a wealth of experience and an army of loyal fans and without him there would be no Machete franchise," says Lionsgate's Susie Bould.
"He also has a keen eye for choosing Steelbook artwork," she adds, referring to Trejo's personal involvement.
He has personally judged a competition offering consumers and fans the chance to design Zavvi's exclusive Steelbook version of the film (the winning entrant is pictured above). As Lionsgate's Grace Alexander told The Raygun newsletter recently: "We teamed up with Empire to launch a Machete Kills Steelbook artwork competition – to be launched exclusively with Zavvi. The competition was promoted on site, in their weekly newsletter and through their social media channels. We also had fantastic support from Machete himself, as Danny Trejo picked the winning design.
"This is a great way for film fans to engage directly with the brand and an exciting opportunity for the masses of talented young designers out there to get their work seen! These competitions create a real buzz in the collector community and definitely have a significant effect on the pre-orders."
Back to the film itself, and, as Lionsgate's Susie Bould notes, franchise, which is growing, is ideally suited for DVD and Blu-ray. "Machete Kills is an outstanding franchise that is going from strength to strength theatrically, as we saw last year with Machete Kills achieving over 150 per cent of what Machete achieved at the Box office in 2010. And, given its cult status and extreme action-packed content it is also perfect for video, so we're sure that it's going to flourish for the home entertainment release as well, with its lenticular packaging it will stand out as a must-own film that's sure to set the market alight."
But it's not just about Trejo. For where Machete Kills' commercial potential rises is in its other stars. As Bould says: "The supporting cast is completely star-studded and together they bring the calibre of the film up to a new level. Individually, they bring their own strengths, Carlos Estevez with his comic timing, Amber Heard with her stunning performance, Mel Gibson with his stellar delivery, Sofia Vergara with her double DDs, Lady Gaga with her sheer quirkiness…And, together they all complement Danny Trejo in the lead role perfectly."
Tags:
Lionsgate
,
marketing
,
sleeve
,
Zavvi