Zombie Update
Tuesday, June 22 2010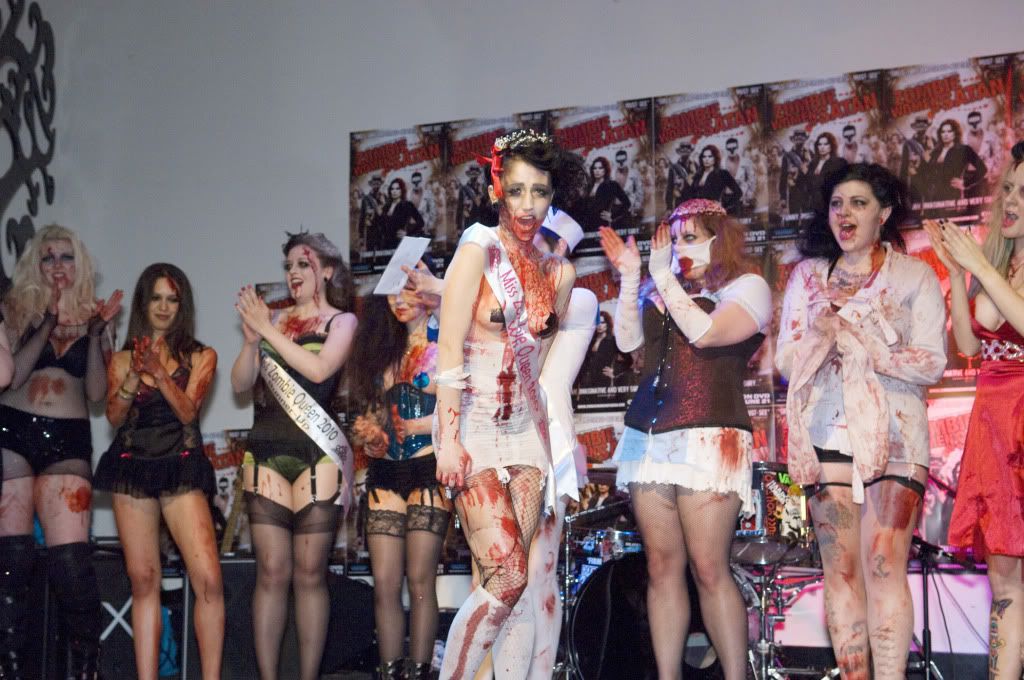 We covered this extensively last week (see here) so thought it only right to follow up with a report on the event itself… So here's a brief glimpse of last week's  Miss Zombie Queen 2010 event hosted by Revolver to mark the DVD bow of the wonderfully titled Zombie Women Of Satan.
The eventual winner, pictured here with the other contestants, was Von (that's the only name we gave, although we strongly doubt that this is purely what it says on her birth certificate), who won through the two-round contest thanks to an, ahem, dance routine that included arguably more fake blood than the film itself.
The winner was judged by a panel that included one of the film's lead zombies, a glamour model and Total Film's online editor Sam Ashurst. They were judged on their overall zombie skills and abilities to perform zombie-related tasks and questions from host Pervo The Clown, the male burlesque alter-ego of  the film's director Warren Speed.
Revolver's Mike Hewitt said: "We were delighted with all of our final contestants, and the evening proved to be such a success, we are already looking at hosting another event next year and making this an annual event."
There's some footage here, but please note, we reckon this is not safe for work, you have been warned…
Tags:
marketing
,
Revolver
,
zombies