Football-Related Top 10s
Friday, June 18 2010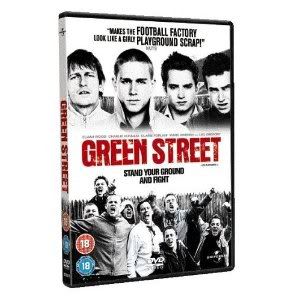 Here's some fascinating material from The Official Charts Company, themed, as most things appear to be this month, around football.
Timed to coincide with the World Cup, the OCC offered up a look at relevant all-time top selling charts taking in the bestselling football films, the all-time most successful special interest football highlights DVDs and as a counterpoint and, of course, highlighting the alternative strand of non-World Cup-related entertainment that has obviously helped propel Sex And The City 2 to the top of the box office charts in the UK, the 10 top slling "chick flicks" at retail.
We'll run through each of the three charts, with a brief commentary afterwards.
Top 10 Football Movie DVDs
1 Green St (Universal)
2 Football Factory (Momentum)
3 Bend It Like Beckham (Lionsgate)
4 Mean Machine (Paramount)
5 Rise Of the Footsoldier (Optimum)
6 She's The Man (EV)
7 The Damned United (SPHE)
8 Goal (WDSHE)
9 ID (UCA)
10 Green Street 2 (Lionsgate)
Source: Official Charts Company
Hooliganism used to be known as the English disease, a phrase that has seemingly fallen into disuse (mainly because it's not just a homegrown phenomenon any more), but, where DVD is concerned, it obviously is the kind of disease that people are trying to catch. Half of the top sellers of football films are football violence related, with the top two slots being taken by films charting the rise and inevitable fall of London-based  hooligans. A narrow genre within a genre, it would seem, but a hugely profitable one. Green Street arguably provided the template for release strategy for this kind of film (since its release, many have tried to follow that post-Christmas, highly visible release (one that's worked for others on here, notably Optimum's Rise Of The Footsoldier). Momentum's Football Factory is a remarkable achievement, given the fact that it was so heavily pirated ahead of its theatrical release, testament indeed to the company's smart marketing. Arguably even more amazing is Lionsgate's Green Street 2, a film that made the first outing seem like Citizen Kane in comparison, and yet still performed extremely well.
Taking the hooligan films aside, and into that equation you could easily put Vinnie Jones' Mean Machine, as this is a film that is cut from the same kind of cloth, albeit, given its prison setting, one that has arrows or stripes printed on it, it's strange to note that two of the other films among the ten are effectively women playing football romcom kind of affairs (although that is probably doing Bend It Like Beckham, of not She's The Man, a disservice). The former was a bona fide British film phenomenon, the latter is almost as surprising as Green Street 2's appearance.
Which leaves two that are genuine football films: The Damned United is a film that enticed hardcore football fans, following, as it does Brian Clough's short-lived stint at Leeds, while Goal is a proper old-fashioned kid-from-the-wrong-side-of-the-tracks-makes-good tale.
As we said at the start, this makes for fascinating reading.

Top 10 Football Highlights DVDs
1 Liverpool FC – The Road To Istanbul (ITV)
2 Ian Wright – It Shouldn't Happen To A Footballer (Liberation)
3 Soccer AM 2 – The 10 Greatest Players (Universal)
4 Liverpool Champions Of Europe 2005 (ITV)
5 Soccer AM (Universal)
6 Soccer AM 3 – The Greatest Matches (Universal)
7 Manchester United Season Review 2007/8 (2 entertain)
8 100 Premiership Goals Vol 1 (Boulevard)
9 Germany 1 England 5 (Lace)
10 David Seaman – Goalkeeping Nightmares (2 entertain)
Source: Official Charts Company
Without becoming too partisan (a prelude to obviously saying something football-related), it's no surprise that Liverpool's Champions League triumph, historic as it was, is the bestselling highlights DVD ever, given that most Scousers and certainly Rafa Benitez have been dining out on it for the past five years. (That was a cheap joke, Liverpool supporters.) And while it's not surprising that Liverpool fans, and they are one of the few teams that still boast a truly nationwide fanbase, would want a souvenir, what is surprising is that they'd want two, but there are a brace here in the 10 bestsellers. Historic victories and seasons offer up half the 10 in total, with one Manchester United, one England tape (no surprise that it's the Germany game) and one compilation, while the rest of the chart is made up of that perennial favourite, the gaffes release. No Danny Baker – who with VVL/Universal invented the concept – but instead three Soccer AM and two former Arsenal stars, Ian Wright and David Seaman, the former capitalising on his cheeky persona, the latter on a couple of howlers of his own, make up the 10. It's worth noting too, that, although it's no consolation following it folding almost two years ago, Liberation has the second all-time DVD seller.
Top 10 "Chick flick" DVDs
1 Mamma Mia – The Movie (Universal)
2 Dirty Dancing (Lionsgate)
3 Grease (Paramount)
4 Love Actually (Universal)
5 Sex & The City (EV)
6 The Devil Wears Prada (Fox)
7 Bridget Jones's Diary (Universal)
8 Titanic (Fox)
9 Pretty Woman (WDSHE)
10 Bridget Jones – The Edge Of Reason (Universal)
Source: Official Charts Company
While there may be no formula for making a successful film, it appears that if anyone's even close to it, then it's Universal and Working Title, which have the lion's share of the ten bestselling chick flicks.
Given that this chart is from the DVD era, it's worth noting that three of the titles – four if you include Titanic, which came out before the DVD boom took off – are from the VHS age. And if you take into account that Dirty Dancing was an all-time bestseller on VHS then you"d be looking at something that has, over the years, outsold almost any other title, not just romcoms. It is a sign of the success of titles such as Dirty Dancing, Grease and Pretty Woman, and the skills of the respective companies that marketed them on DVD, that people went out and bought them again on DVD despite already probably owning the VHS too.
Fair play too to the OCC for putting this kind of information out, something that can be used by hungry news editors everywhere to give profile to the home entertainment sector. And give some food for thought on The Raygun too.
Tags:
football
,
OCC
,
top 10