Tails, You Win
Wednesday, September 19 2012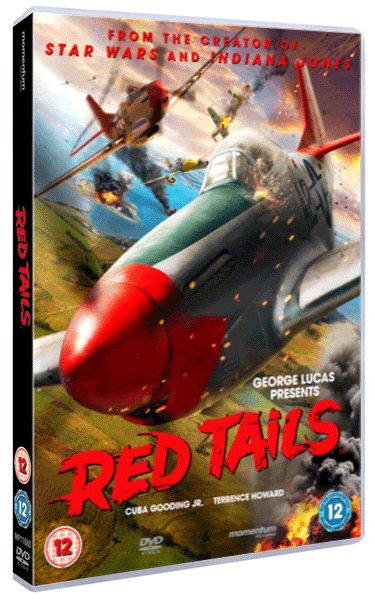 Momentum is, as oft-stated before, one of the masters of making titles work on their home entertainment release; the company's successes in this sector in recent years speak for themselves.
One area where it's really succeeded is in its packaging, smartly deciding which releases deserve some form of foil-blocking, O-rings or other flourishes. And within that arena, it has excelled in its work on lenticulars.
The latest to come in this fancy 3D style is Red Tails, due on DVD and Blu-ray on October 29. Both will come housed in the kind of lenticular sleeve featured here; an image that will resonate with anyone that's received the company's Q4 presentation brochure, as it was featured on the cover of that.
As we've often noted too, we love publishing pictures of lenticulars illustrated in GIF form – "Look, it moves, it excites," we'll exclaim, paraphrasing Harry Hill. So here is the sleeve for Red Tails, in all its glory.
And as for the film itself? It's the kind that works a treat as a home entertainment title, with the kind of World War II theme that is still a winner with the video-buying public. It comes with a built in story to tell too. As Momentum's Adam Eldrett notes: "The history of the film is really interesting, George Lucas tried to get this picture greenlit after his initial success with Star Wars but the studios were just not interested. 
"Some 25 years later he finally made the film using all the tools at his disposal, as a result we have these stunning WW2 dog fights on screen with the power of Industrial Light & Magic behind them."
The film has already worked on its video release in America, Eldrett adds. "Lucasfilm has been incredibly supportive of our release plans and after some great success in the US on home entertainment, we are hoping to emulate some of that."
Moving on to the marketing plans, Eldrett explains: "The film appeals to a very large audience, fathers and sons, military enthusiasts and of course fans of Star Wars and Lucasfilm. "Our media campaign will be driven towards 15-44-year-olds, for me one look at those dog fights, coupled with the Lucasfilm logo was enough to interest me and, I dare say, anyone who is a Star Wars fan and anyone who has an interest in the war genre."
He continues: "Our PR machine is also working hard, of most interest is a link up we have in place with the RAF Museum, we have a special press day coming up where journalists will learn all about the Red Tails, fly a bombing mission in a flight simulator where they will flanked by those Red Tails. Historians will be on hand to answer questions and we will also be screening the film, it's a great location to see it.
"The museum will also be running an exhibition throughout Q4 titled From Red Tails To Star Wars, which will show the evolution of flight; it's a great way of telling this story and promoting the release of our film."
Tags:
lenticular
,
marketing
,
Momentum
,
packaging