Paranormal Activity
Monday, July 2 2012
Momentum put together a spook tabular campaign for its supernatural thriller The Woman In Black, released on June 18. The title Was supported by impressive marketing, both above and below the line, a fact outlined in The Raygun newsletter and here on the website. One of the elements that helped give the title more than a ghost of a chance in store and helped raise the spectre of furthering sales was this unique personal appearance.
Rather than one of the film's stars, Momentum hired the woman in black herself, this rather ghostly apparition, to float around in HMV's flagship store. It continued the film's own jump-out-of-you-skin themes; imagine turning around while browsing the racks to be confronted with her…
As Momentum's Kristin Ryan told our newsletter during the first week of release: "Sales figures so far for The Woman in Black are great and we're on track to hit our very ambitious target across DVD, Blu-ray and Download.  We've still got lots of activity running through the weekend and we're confident that the double effect of supermarket footfall (stocking up for Sunday's match) and the ever patchy British summer weather will make for strong sales over the weekend.
"Our Summer solstice online premiere event was a great success last night, further harnessing the large and very vocal Facebook and Twitter groups who are still buzzing about it today."
Here's the woman popping up in HMV…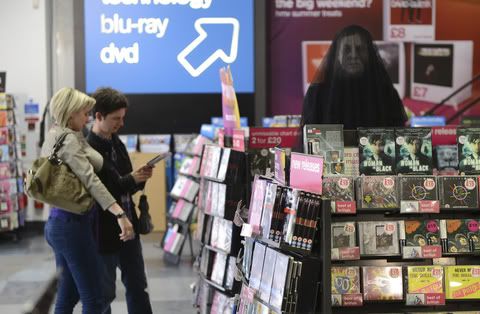 Tags:
event
,
in-store
,
Momentum