Welcome To The Pleasure Drome
Friday, June 15 2012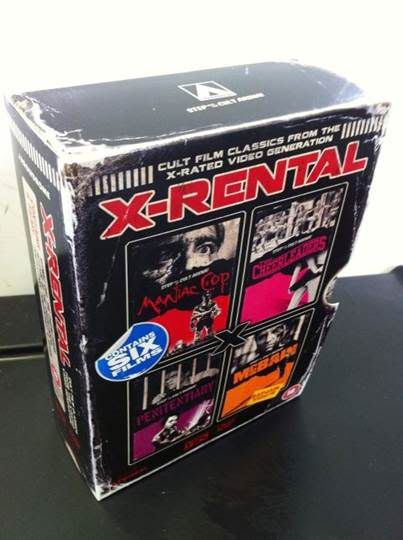 With Father's Day almost upon us, and with a raft of promotions in stores and online, it's worth pulling out at least one title that should have any industry veteran, old horror fan or VHS devotee, positively drooling over.
At one end of the spectrum, HMV has scored The Muppets as coming out tops as Father's Day gift choices for its customers, according to an announcement made this week, here's some nostalgia of a different kind from Arrow's ArrowDrome imprint.
Where The Muppets offers up a more family friendly kind of nostalgia, one that is also a lot easier for children to buy for their dads, Arrow's collection is far, ahem, nastier.
The X-Rental box set comes in a smart piece of packaging, which gives it a suitably retro and dog-eared feel (it's in better nick than a lot of our old VHS, especially the timecoded copies in slipcases) and it contains six films in totals, including two sequels. Those on offer include Maniac Cop, one of the finer films from the era, certainly one of the more notorious, if not in name alone; McBain, starring Christopher Walken; The Cheerleaders and Penitentiary, sequels to the latter two are also contained in the set.
As Arrow's Jon Sadler notes: "As many readers of The Raygun will no doubt go misty-eyed at the mere thought of an oversized plastic rental video box containing a film such as McBain or Maniac Cop I'm sure we will raise at least a smile at our unique Arrowdrome concept set – a tattered looking box containing six films from this classic era (lovingly transferred from VHS to DVD) in this 'tribute to the era' packaging – and it's a great price too – not £75."
Tags:
arrow
,
Father's Day
,
gift
,
nasty
,
VHS