On The Box
Thursday, June 7 2012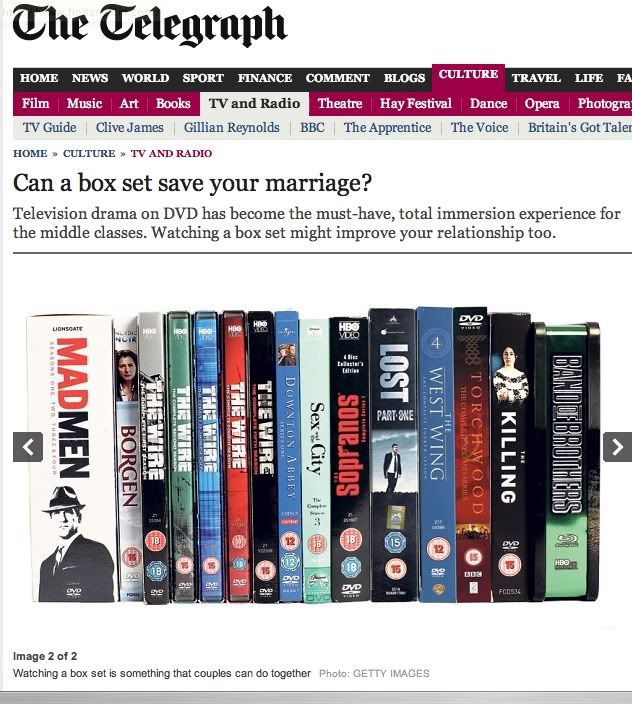 Another week, another box set feature… In recent weeks, both the Mail On Sunday's You magazine and the Daily Telegraph have trotted out extensive features on TV on DVD, box sets and how they've changed the writers' respective lives, loves, family activities and more.
It's as if the writers have just discovered TV on DVD and the whole phenomenon. The Guardian has been running a regular Your Next Box Set feature in its Friday edition some time and the lexicon of box sets and the inherent way they can change your lives have entered in to popular culture. 
And yet still people are queuing up to write features about box sets… The Guardian itself is one of the best (or worst, if it gets on your nerves) examples. For the past five  years or so, its writers have been talking about The Wire and The Sopranos. Commenters on its websites frequently refer to these two shows (and a handful of others, it must be admitted) and use them to cite what is wrong with other forms of entertainment, especially cinema and mainstream blockbusters. Basically, and it's a relatively simple argument, commercial movies – and numerous other things – are quite patently not The Wire or The Sopranos and are therefore, well, a bit rubbish.  "It's not The Wire," is the oft-trotted out phrase. 
In the past year or so, these features have taken a slight turn from the previous route, as writers have been lining up to praise Scandinavian TV series, and particularly the strand that has been dubbed Nordic Noir, as the next best thing since, er, The Wire. 
Here's a sample quote: "When it comes to bonding, middle-class style, the box set rules supreme. There is nothing – nothing, I tell you! – more fabulous, more consolidating, than curling up on the sofa with two glasses of chilled white and seven red-hot seasons of Hustle. Apart, perhaps from 44 discs of The West Wing, or 68 episodes of thirtysomething (yes, folks, get out your credit cards for a modern classic); or seasons 1 to 3 of Damages – that's a helluva lot of togetherness in anyone's book." (From the Daily Telegraph's Can A Box Set Save Your Marriage feature.)
And more: "Yes, my friends, we are Box Set DVD junkies. We've been at it for years, ever since we had children and 'staying in' became the new 'going out. We've done The West Wing, The Sopranos (twice), Six Feet Under, The Wire, Weeds (if you haven't, you should), even Battlestar Galactica (if you haven't, you shouldn't) – watching them all rather furtively, because overdosing on telly has always been considered a bit naff around here." (From the Mail On Sunday's You magazine piece Box Sets Are Today's Bonders.)
What makes it all the stranger is that in the case of, say, The Guardian, its discussion of DVD flies in the face of what appears to be its ongoing editorial policy. At a time when the paper often states that DVD sales are falling off a cliff (see its relentless pursuit of HMV last year), why is it so pro-box sets?
More pertinently, why do journalists keep writing about box sets?
"I think possibly as the journalists are so hooked themselves on box sets – they are the ultimate luxury/convenience – you watch in your own time at your own pace," says Arrow's Jon Sadler, positing one theory. Arrow spotted the talent coming from Scandinavia ahead of the rest of the country, signing The Killing before the series became a phenomenon and has effectively tied up this burgeoning sector, launching its own Nordic Noir imprint to house the likes of The Bridge, in addition to The Killing. "Box sets also look good on your shelves," Sadler continues. "It's something for which we are very thankful for and long may it continue."
"It's constantly changing," says HBO's Sophie Knight. "New TV series, films and box sets are released every week, there is always something to talk about. In such a technological age, it is an exciting market as we don't know what's around the corner."
It's even possible that the continued interest in the box set from the press is helping prolong the life of the format. With the proliferation of catch-up TV and on-demand services, you'd be forgiven for thinking that box set sales would have dropped steeply, but that's far from the case.
"This is something that is really difficult to measure," says Knight, "but until something comes along to wholly replace the box set, I imagine that there will always be an interest in this sector as it is constantly evolving."
Arrow's Sadler believes that the Nordic Noir shows are a perfect fit for Guardian writers as well as readers. "The Guardian loves subtitled drama as it has a feeling of exclusivity to it, not discounting its obvious quality and that is why they also love series such as The West Wing and The Sopranos. It is an antidote to programmes such as Midsomer Murders which they probably see as being parochial and against what they stand for as a publication."
All that positive support doesn't necessarily create a huge surge in sales, but it does keep the interest up. As Jon Sadler notes: "The buzz on Nordic Noir has been riding on a high ever since the first of the Millennium Trilogy books and films and The Killing brought this into people's homes on a weekly basis.
"Whenever a new article comes out it just perpetuates the existing long tail rather than driving a massive spike, even though the perceived media value is worth tens of thousands."
"It's quite difficult to measure [the uptick]," adds HBO's Sophie Knight, "as there is no way to directly track the effect. However, I do not doubt that these sorts of articles can have a positive effect in the long-term for a franchise which is featured.
"These articles always help to raise awareness; particularly with new series. I know I always want to find out more if a new series or film catches my eye in an article."
Tags:
arrow
,
box set
,
HBO
,
TV