The Art Of Trolling
Wednesday, January 4 2012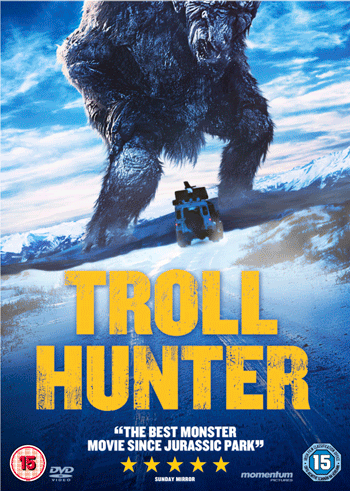 One title has rather unceremoniously barged its way on to a decent amount of year-end best of lists, as well as into the hearts of plenty of consumers, is not likely to end up as award fodder during the busy gong-friendly season in the early part of 2012.
For nestling alongside the worthier fare normally found on those kind of lists is Troll Hunter, a film that certainly looks somewhat out of place compared to costume dramas, historical epics, political tales and the other Oscar, Golden Globe and BAFTA hopefuls. At first glance, Troll Hunter looks like it may even be a spoof – a Norwegian, mainly subtitled affair, with relatively small budget about the titular creatures hardly sounds like classic material on paper. But this is no Asylum-style low budget flick so beloved of trash-loving fans; it's the latest entrant into the found footage genre and one that has helped give the sector a new lease of life.
It's arriving on DVD and Blu-ray on January 9 courtesy of Momentum, and comes with a sheaf of positive press cuttings and a great reputation that has been built by old-fashioned word of mouth and modern-day Internet chatter, fuelled by Twitter and other social media.
As Momentum's Adam Eldrett notes: "Troll Hunter is a great film with solid reviews, bringing it to market to hook a wider audience is taking some investment in above the line media in order to capitalise on the awareness out there."
Its smart theatrical release, has helped build the film's reputation; it started out on the festival circuit, including but not exclusively horror ones, and went on to play at the artier cinemas and picturehouses. All of which helps set things up nicely for the impending release.
"A typical 15-34-year-old male would have heard of Troll Hunter but not been able to see it at the cinema due to a largely art house strategy at theatrical," explains Eldrett. "We are bringing Troll Hunter to the masses by showing how much fun it is as well as a movie with five star reviews."
And to bring it to a wider audience, Momentum is giving it a suitably sizeable marketing campaign.
This means TV advertising, with a 30, 20 and 10 second spots already airing on television, the longest is embedded below. It's further boosted by sponsorship on the SyFy channel, outdoor elements (sponsorship of HMV's Game Bases, national rail and London Underground stations) and press in the Metro and Shortlist.
Much of its activity is online, kicking off over Christmas when its core audience are even more likely to be online than ever. 
As Eldrett says: "We have over invested into online advertising, we believe there is real parity towards male gamers and those interested in Troll Hunter. With Internet usage among this audience up around 20 per cent over the Christmas season we are going to try and capitalise on this."
And this being Momentum, an expert with this kind of film, it comes wrapped in a sumptuous lenticular sleeve.
"Devices such as the lenticular sleeve play on the fun nature of the film without it seeming too stupid," adds Eldrett. It is NOT Megashark Vs Giant Octopus and there is a film there to be enjoyed across several demographics."
That sleeve is brought to life with the TV spot we've shown below; as Eldrett concludes, the end frame "really nails" the lenticular element too.
Here it is…
Tags:
lenticular
,
Momentum
,
Trailers