A Day With The Doctor
Wednesday, November 30 2011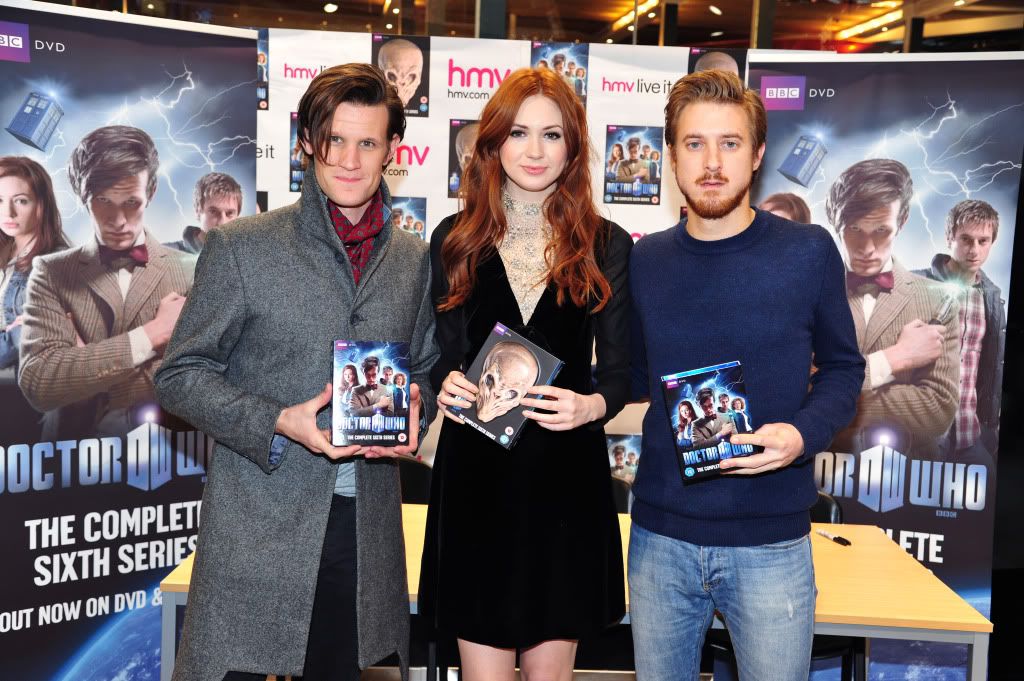 "It's one of the things we look forward to most," says Matt Smith, aka Doctor Who. What's he talking about? He's addressing a Q&A session in the middle of the new Westfield Stratford City shopping centre, alongside his colleagues Karen Gillan and Arthur Darvill, Amy and Rory respectively. Hundreds of fans are lining the centre, craning their necks to see the team, while a few hundred lucky souls wearing wristbands have a better view. 
"We love people being enthusiastic," adds Karen Gillan. "How brilliant is that?"
So what is it that excites the team so much?
It's events like the one held on the day 2 entertain launched the new DVD and Blu-ray complete box set editions of the complete series six of Doctor Who.
We're at Westfield as part of a day's worth of Who-related activity. The trio have been doing selected interviews in the morning, followed by a packed signing at HMV's swish new store in the shopping mall right by the Olympic stadium in east London, and then down  a flight of stairs to the Q&A, hosted by radio and TV presenter Jo Whiley. We've been seeing the Doctor Who experience up close and personal, we being The Raygun and our junior correspondent Milo Murray, who's reported on his day out of school, for which he got special dispensation, below.
It's fascinating to see the draw of Matt Smith and co, we witnessed it last year at a signing at HMV's flagship 150 Oxford Street store, but this is more of an event than just a signing. The queue stretching outside HMV's store is testament to the ongoing power of the franchise, one that's seemingly undiminished. Kids off from school, one who looks like he hasn't even started yet and grown-ups of all shapes and sizes, from those barely out of their teens, if that, and others who were probably Who fans the first time around, are all in the queue that snakes around the concourse outside the new HMV store. Heck there, are even some lookalikes, or rather diehard fans dressed as Smith and, perhaps more perplexingly, as Peter Davidson. The sense of excitement in the air is palpable as the allotted time for Smith, Gillan and Darvill's arrival approaches.
And then, in a flash, they're there, striding through the cordons and crowds for the requisite photos, clutching the DVD and Blu-rays, before the signing starts. A friendly HMV face helps usher us to get a hastily appropriated DVD signed for our junior correspondent (see bel0w) and we have time to watch Smith and his cohorts interacting with their fans. There's a warmth there and a genuine relationship between the two, something you rarely see at this kind of event. 
Later, at the Q&A, it's the same as Smith, Gillan and Darvill recognise faces from earlier and the trio also seem to genuinely enjoy each other 's company too. They really do enjoy doing these things, it seems. 
They discuss all manner of things, taking in seeing themselves as action figures; location shooting; what they're doing for Christmas (Smith points out his parents are there); the forthcoming Christmas specials and next year's outings (Smith: "I heard the pitch for next year from Steven [Moffat] and I was salivating"); keeping those plots secret (Gillan: "I'm really scared of leaving a script somewhere"; Darvill: "I'm sure we've given away something inadvertently, I'm glad when it's on [TV]"); where they'd like to film; the last series; their most frightening creatures in Doctor Who; their phobias; the guest stars (Smith: "We're very lucky to get the actors we do"); the forthcoming feature film (something that drew its fair share of press coverage after the fact, as newspapers and bloggers interpreted Smith's comments about knowing little of what was happening with it); what it's like being in the programme (Smith: "It's the greatest part I've ever played and probably will ever play"; Gillan: "It's the most fun, I'll never have this much fun in a job") and, o9f course, the DVD and Blu-ray. "It's so modern," quips Darvill, talking about the latter, and Whiley gives numerous plugs to its release and availability, particularly upstairs at HMV. 
And with those final plugs, Smith and co were gone, whisked away through the scores of adoring fans. Below, we have our junior correspondent Milo Murray, HMV and 2 entertain on the event…
Tim Murray. 
The Raygun
"I went to the Doctor Who signing and Q&A. My best bit was when Matt Smith high fived me, I felth like a warmth had spread because I had achieved me goal.
"I'll tell you my story in order…
"Me and Daddy went into Westfield Stratford City it was near the Olympics, so we saw the the site which was cool.
"We went into HMV, got our wristbands and waited for a bit for them to arrive. When they turned up it was really exciting, we were so close. We had a really good view of them. We got a Doctor Who Series Six boxset we had to wait a bit before we saw Matt Smith Arthur Darvill and Karen Gillan. Then finally it was our turn.
"When it was our turn I got it first signed by Arthur Darvill, who shook hands with me, then Karen Gillan and finally Matt Smith. He high fived me, after I told him I had special permission to get out of school to see him. 
Finally, when it was time we went to the Q&A which was really good. My favourite question was if you  could be a monster for a day, who [or what] would it be. Arthur Darvill answered an evil bear, Matt Smith said and Karen Gillan said Prisoner Zero disguised as a hamster. After the Q&A it was time to go home, so we went. It was the end of the day, I had a great time time, but was really tired. 
Milo Murray. 
Aged nearly nine-years old, 
Class 4F, Hazelwood school
"The best kind of PAs are those that have an exclusive element to them and have a degree of 'added-value' built in, such as an artist Q&A. Throw in an iconic product franchise in the shape of Dr Who, and you have a very special event on your hands.  
"The recent Dr Who signing at hmv Stratford City, featuring Matt Smith, Karen Gillian and Arthur Darvill was just that – proving an incredible event that will live long in the memory of the 250 fans lucky to attend. Just like the good Doctor himself, the Dr Who brand keeps regenerating successfully so that it not only remains fresh and contemporary, but connects with a new generation of fans each time to keep building its appeal."

Gennarro Castaldo
Head of press and PR, HMV 
"This was the first time we've partnered with Westfield and put on an event of this scale across our whole range of Doctor Who products. We worked closely with HMV to put on a packed signing event and then went a step beyond to create a real retail experience for fans with a Q&A in the central gallery of the shopping centre. All three stars of the show attended, Jo Whiley hosted and hundreds of fans got to meet and see their idols in person."
Nancy Twynam, marketing manager, 2 entertain  
"The 21st November was Doctor Who day from the TV and radio appearances in the morning right through to the HMV signing and the Q&A event at Westfield which was streamed live on Facebook and received unanimously positive feedback and nearly 5,000 comments from across the world. The whole day generated a substantial amount of social media and traditional media PR interest and we're delighted with the response."
Anna Holloway, head of comms, 2 entertain