It's A Mystery
Monday, October 31 2011
WIth their pre-teen appeal and cartoon-like appearance, twins Jedward are the perfect vehicle to help promote Warner's long-running franchise Scooby-Doo! and here are the duo alongside the cartoon mutt to help push the major's latest activity surrounding the dog and his pals. 
As we reported on our most recent newsletter, supermarket giant Sainsbury's has put together a major Halloween promotion with Warner that has seen the mystery-solving, ghost-chasing, snack-eating Great Dane effectively becoming the face of the grocer's October 31 activity. 
It's been running in stores throughout October, with added weight over the past week, including online elements. And you haven't been able to move in Sainsbury's for point of sale and in-store activity, including a very high profile for home entertainment product. It highlights not just the increasing importance of Halloween on the retail calendar, but also Mystery Inc's remarkable longevity – some 40 years after his inception, Scooby's latest series is one of the most popular shows on CBBC and Boomerang. 
The activity ties in with the latest Warner release, an all-new live action affair entitled Scooby-Doo Curse Of The Lake Monster. 
Warner's director of marketing Sarah Bird said: ""Teaming up with Sainsbury's is just one example of how we can plan and execute a compelling cross category promotional campaign with one of the UK's leading retailers and one of the UK's favourite family brand. Scooby is synonymous with spooky fun so we saw an immediate opportunity to get families more involved with the brand this Halloween."
The culmination of the activity was Scooby's appearance alongside Jedward at Sainsbury's sydenham store, alongside a converted HGV truck turned into the Mystery Mansion. Here they are, pictured below, note the home entertainment branding behind them (and you may also want to ponder on which one will still be working in showbiz for years to come)…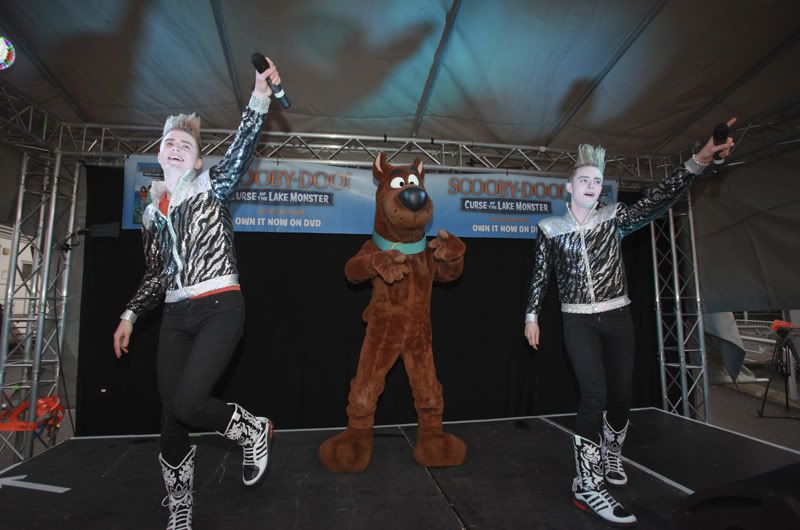 Tags:
in-store
,
promotion
,
warner