Making A Noise About The Silence
Tuesday, October 4 2011
This is, as 2 entertain rightly says, the kind of stuff that will get the Doctor Who fans positively salivating.
On the left we present the latest limited edition SKU for Doctor Who, the sixth in an ongoing series of specially packaged complete collections that come at a premium price and get the fans rushing out on day one to buy the Timelord's latest adventures for themselves. 
The series ended last weekend, with another strong set of viewing figures and a cleverly constructed storyline and its assorted strands coming to their denouement in a richly rewarding finale. 
In a smartly timed movie, 2 entertain issued the details of its November 21 box set release just ahead of the programme's transmission, allowing it to ride on the back of the interest in the final episode.
The 3D head of new baddies The Silence encases the whole of the sixth series, with oodles of extras, such as a complete raft of Doctor Who Confidential programmes, plus a clutch of shorts, some commentaries and more. As well as the content on the disc there's more too, in the form of a set of lenticular postcards, pictured below (we always love putting animated gifs up on our site and this is no exception).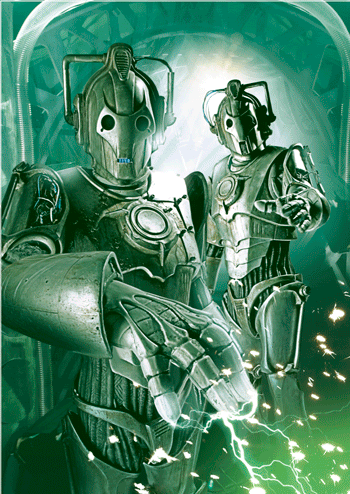 Tags:
2 entertain
,
Doctor Who
,
packaging