Playing The Numbers Game
Wednesday, April 28 2010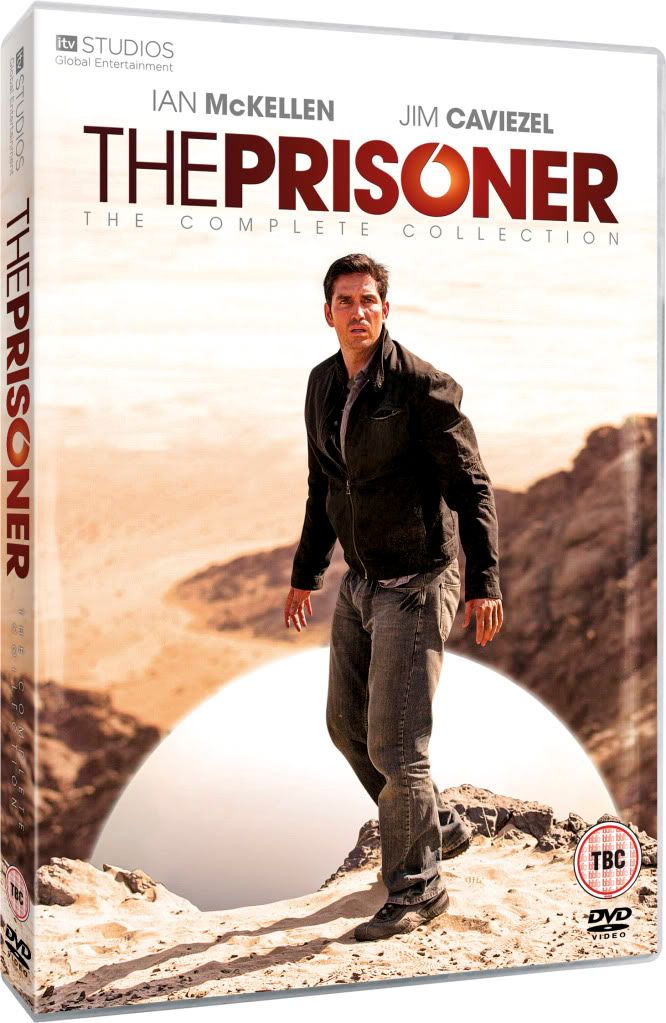 Jim Caviezel is tired, jetlagged and waiting to finish promotional activity for The Prisoner, the new version of the much-loved TV programme currently airing on TV  and is due on DVD on May 3.
He's still finding time to speak to The Raygun as part of his British promotional activity which is supporting both the transmission and ITV Studios' DVD and Blu-ray release, but he's eager to end the PR and promotional round he has been doing for months (the US and UK releases were a while apart).
Why? It's not that he's not proud of his work on the programme – "I"m really pleased with it," he offers, right from the off – it's because once it's all finished, he might finally get to watch Patrick McGoohan's original (available via Network, incidentally) .
Caviezel has, you see, never watched the 1960s original. And he's waiting to finish every element of working on this new take on the classic before he finally looks at it. 
"These interviews are still part of the whole thing. I have [the DVD] sitting at home," he says. "I'm chomping at the bit to watch it and I will sit down and watch it [when the PR is over]."
He hadn't watched it when he got the role and, after winning the part, Caviezel, who famously starred as Jesus in The Passion Of The Christ, avoided watching it then. Similarly, nor did he watch every on-screen interpretation of the son of God before he appeared in Mel Gibson's opus. An actor is, he notes, "a mimic by nature" and he didn't want to channel previous takes such as McGoohan's number six, before he appeared in his own take on it, even subconsciously. 
Now The Prisoner is finished, though, he's happy with how it turned out. "I'm really pleased with it," he says. "I was incredibly nervous, I didn't realise the scope of the thing; [but] I didn't know the original, I did it based on the fact it was great material."
The new version should, he said, be taken almost as its own programme. "It's a recreation of the original, an homage to it, it winks to it.
"There's a great style to [this version], there's not a weak scene in the piece."
Caviezel thinks that time will prove The Prisoner is a worthy piece that works – its reputation will, over time, be aided by its DVD and Blu-ray release. 
"People that like it, really like it. With The Thin Red Line [his breakthrough role], a lot of people didn't jump on it, we got the love, but it took 10 years to evolve."
The UK, he thinks will be much quicker to pick up on The Prisoner – a fact that has been proved by some of the reviews it has garnered ("An effective re-imagining for the age of Lost and FlashForward, and its compelling intrigue ensures we'll keep watching to find out the truth," said the Daily Mail). "Here I think people will be much more open to it."
It was an arduous shoot – six months or so in the desert of Namibia, in a location every bit as unique as the original's Welsh village of Portmeirion – but the impact was lessened somewhat by the opportunity to work with his number two, as it were, acting royalty Ian McKellen. "Sitting down with Ian McKellen, I was a bit nervous, but he said 'darling, don't worry about'," Caviezel laughs. "He was like a teacher to me, he affords me the opportunity to just get better. I've been fortunate to work with great actors like him and Richard Harris [in The Count Of Monte Cristo]."
That six month shoot was a change for Caviezel, on his first television rather than film shoot. Its script was two or three times the length of a normal movie, and yet it retains a filmic quality. "It's beautiful in its scope, it's got a lot of eye candy to it."
It's not just the look nor the opportunity to work with McKellen that drew him to it, it's the content too. "It's allegorical to what's on in the world today," he says, noting its paranoid, surveillance themes. The original had elements of that too, imbued with Cold War elements, and its influence has been far-reaching, as Caviezel observes. "Lost or shows of that kind really, it all started… with the original Prisoner. It spawned a lot of things."
It is that resonance, both with the original and this recreation, that could aid the programme, particularly for ITV Studios' release. 
Meanwhile, with the promotional activity coming to an end on the heels of the lengthy shoot, Caviezel is mulling over a clutch of projects, at the same time as spending more time "being a husband and father".
And, of course, there's the small matter of the DVD to be watched too…
Tags:
ITV
,
The Prisoner