The Season Of The Sword
Wednesday, April 27 2011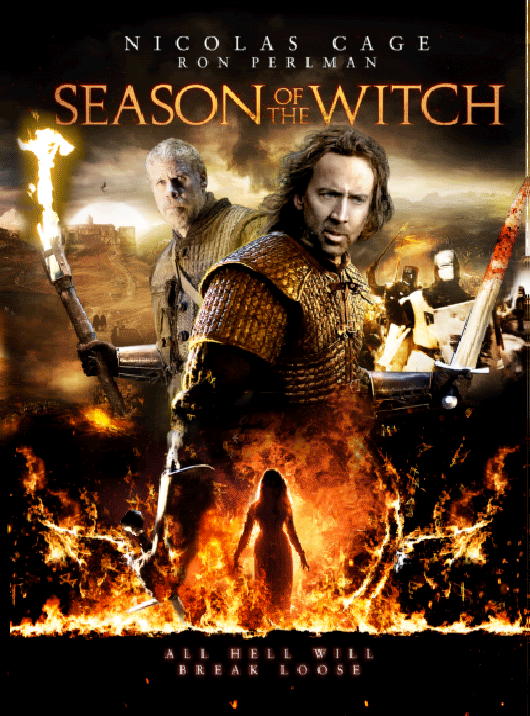 It's one of the most enduring genres and has been a staple of the video market for more than three decades, but swords and sandals are currently enjoying an even bigger resurgence. The Raygun talks to some of the key players and explains why sometimes, the sword is mightier than the pen…
It can take in coldest, northern Scotland or the heat of the deserts and other foreign climes, it can take in a period stretching over hundreds of years… the swords and sandals genre is one of the most resilient in Hollywood history.
From historical epics in the early days of Hollywood and through its golden years, to B-movie heroics and effects-laden mythological tales from the 1960s and 70s, on to the video rental heyday and, latterly, the DTV boom, swords and sandals films have been there or thereabouts for years.
But as we've already noted, it has, in the past couple of years, come back to the forefront of the public's mind and a variety of films, taking in famine, plague, pestilence and buckets of blood, have done a roaring trade at stores and online. In today's landscape, the odd blockbuster, think, say 300, is joined by umpteen DTV and limited theatrical titles that are all performing well.
In some ways, the "sandals" term seems superfluous, as in many of these tales, particularly latterly, the climate is too inhospitable to be wearing just open-toed footwear. But swords and sandals it is.
As Momentum's Clare Dundrow says: "In industry terms, it's most definitely swords and sandals – long hair, beards, cloaks, swords and poor excuses for shoes equals one of the most popular genres for DVD around at the moment."
Its endurance, as charted by Anchor Bay's Thom Leaman is impressive. "Most genres come in and out of popularity but really the sword and sandals epic has pretty much endured for the entire cinematic age.," he says. "The cineastes of the world might be in uproar when I say this, but you can draw a direct thematic lineage from the earliest silent epics such as Cabiria right up to Spartacus: Blood And Sand and other recent film hits such as Centurion and The Eagle.
"A quick glance at the that intervening period of cinema history confirms that the Sword and Sandals genre has never been far away – be it the classical Hollywood era of Samson And Delilah and The Ten Commandments; the Italian Pepla films from the 1950s and 60s; or the original Clash Of The Titans and Jason And The Argonauts. The legendary, epic quality of the genre transcends trends and tastes, whilst their pomp and grandiosity fuels escapist desires. The Italian Pepla craze in the 1950s was undoubtedly a direct riposte to the starkness of the post-war Neo Realist movies of De Sica, Rossellini and co. Arguably the same could be said of today – consumers want to indulge in a bit of OTT fantasy and such titles fit that bill perfectly. The fact that there is more often than not a sizeable chunk of sex and violence certainly helps."
Momentum's Dundrow succinctly furthers that: "I think they capture a really brutal, and pretty horrific period of history. There are real stories to tell, with real heroes and nasty villains. Production values tend to be high too and no expense is spared on the gore."
It's in the home arena that the swords and sandals genre is truly working.
"It seems to be a resurgent genre," says Metrodome's Jezz Vernon. "We've seen some middling theatrical results followed by very strong DVD figures and now some DTV titles are performing well."
The theatrical performance isn't essential. "I think they're something film fans prefer to own rather than just pop along and see on a big screen – they're not so bothered about that," says Momentum's Dundrow. "They won't just watch it once either. They form part of a wider collection, maybe genre led or star led. And in many cases are an impulse purchase based on a good sleeve or word of mouth or PR."
Momentum has its own next high profile entrant into the genre, Season Of The Witch, on its way in June, while Anchor Bay's Spartacus Blood And Sand, the current hit TV franchise that offers up its own take on the genre, complete with oodles of blood and lashings of sex, arrives on May 16. Already aired on televisions, this is tailor-made for home viewing.
"The popularity of Spartacus in particular stems largely from its everyman appeal," says Leaman. "Without meaning to sound trite, there really is something for everyone – intrigue, sex, OTT bloody battle scenes, gore galore – but all strung together in an almost soap opera type manner, really aiding its compulsivity. It is therefore absolutely perfect for a DVD or Blu-ray boxset."
Momentum boasts a strong success rate in this genre with the likes of Outlander and Valhalla, and knows the recipe for success as well as anyone else. "A big lead name helps and we have that in Nic Cage – he has a great DVD conversion rate from theatrical – plus legend Ron Perlman so that's two boxes ticked already. We can also boast Christopher Lee here too," explains Dundrow, referring to Season Of The Witch. "A great storyline is vital – what better than mixing witch-craft in with a great action adventure with an all star cast? It didn't hurt Black Death [one of the recent successes in this genre]."
Marketing is essential, but it all begins with the sleeve. It's as crucial to a swords and sandals DTV title as it is to one that boasts theatrical pedigree such as Season Of The Witch.
"As always with DTV if you get the cover right ahead of everything else – the right mix of elements with a sense of genuine drama and emotion they can really over-perform," says Metrodome's Vernon.
"The sleeve and packaging is paramount to the title's success," says Momentum's Dundrow. "Retailers know we maximize sleeves and artwork to full potential. Valhalla Rising and Outlander are two great examples of this genre where the sleeve and packaging have been paramount to success, taking small theatrical releases to a whole new height on DVD.
"[For Season Of The Witch] we also have an awesome sleeve with a superb 3D lenticular which really will lift the film's shelf presence and profile in-store."
There are other elements, too, as Dundrow notes "a kick-ass TV spot is also a must nowadays".
For a title such as Spartacus, the marketing's got to suit the programme too. "Broadly speaking Spartacus aligns to the sword and sandals historical epic, but with everything amped up to 11 in line with the demands of popular primetime TV drama," explains Thom Leaman. "In the most basic terms and please forgive my language, the show features a lot of fighting and a lot of f**king. So perhaps swords and sex is a more appropriate genre title."
So what's the best way to market a release such as Spartacus? Leaman concludes: "Big, bold, utterly unsubtle – exactly like the show it self."
One thing's for sure, there's plenty more to come beyond Season Of The Witch and Spartacus. Metrodome has an impressive slate, Momentum has more on the horizon, and there's a second series of the Spartacus franchise currently airing too. Those swords and sandals will be around for a lot longer…
Tags:
Anchor Bay
,
DTV
,
Metrodome
,
Momentum
,
swords and sandals