Kicking Off On The Underground
Tuesday, December 7 2010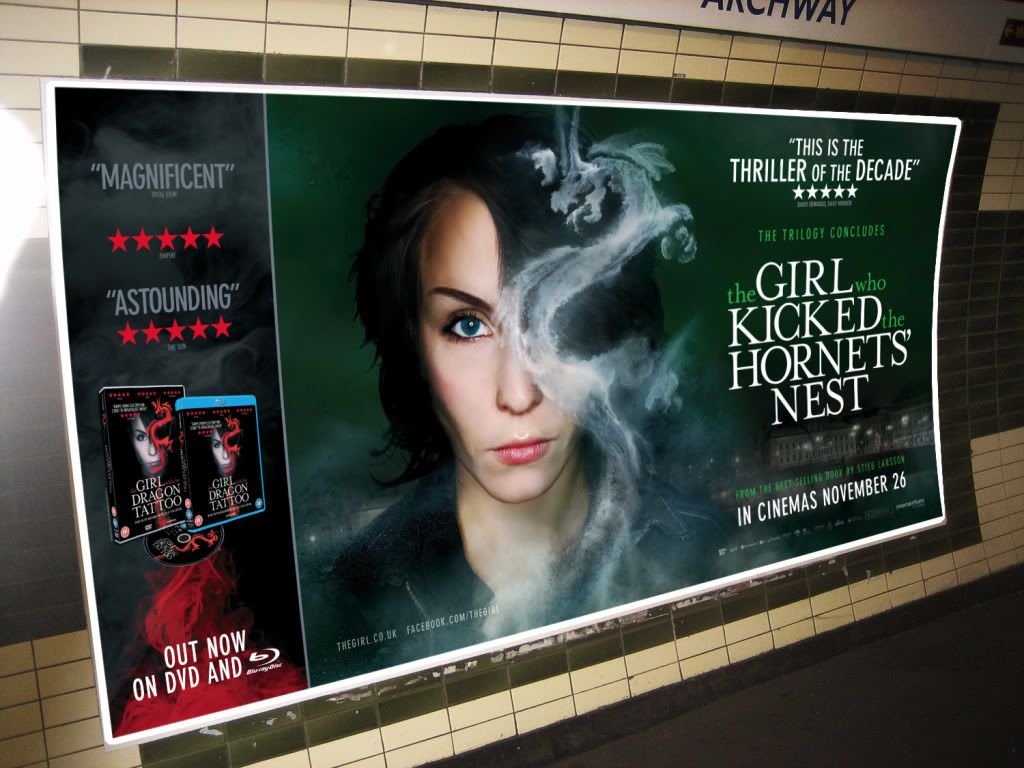 This gorgeous poster, which we've been seeing all over London Underground, neatly illustrates Momentum's smart and carefully timed strategic marketing for its Stieg Larsson trilogy.
It also shows just how well a title can do when the theatrical and home entertainment marketing teams work in tandem to pull a project together. As we've noted before, here and on our newsletter, the release dates for the three films, The Girl With The Dragon Tattoo, The Girl Who Played With Fire and The Girl Who Kicked The Hornet's Nest, have been co-ordinated to give each a fair crack of the whip at both stages of their respective life cycles, theatrical and DVD.
So the theatrical release of Hornet's Nest, the final in the Trilogy, opened and had a clear run at fans, although, as the ad here shows, it gave Momentum a chance to remind viewers and readers (the book is still selling through and winning over new fans) about the availability of the first film on DVD and Blu-ray. On Jan 10, the second film, Played With Fire, arrives on DVD and Blu-ray, ahead of Hornet's Nest later in 2011.
Momentum's Kristin Ryan said: Our strategy from the outset was to plan and execute as much cross promotion between the theatrical and home Entertainment releases as possible, which included adding exclusive footage for the next film on the DVD/Blu-ray, joint advertising on press and online advertising, and most recently pushing the Dragon Tattoo DVD/BD sales message as part of The Girl Who Kicked The Hornets' Nest London Underground poster campaign.
"The franchise strategy with both the interactive website and social media activity has also been key to the success – we knew we needed to speak to the fans of the books, to harness their passion and dedication and then widen that out and talk to mainstream film fans.  And of course capitalizing on the success of the books (with sales now surpassing 5 million in the UK alone) we worked with the publishers to re-sleeve with the film artwork.  This in turn allowed the books to reach a whole new audience brought to the franchise through the films."
Sales of Dragon Tattoo will, by Christmas, easily pass the 400,000 mark, making it the most successful foreign language film of the year, a testimony to Momentum's smart work.
Tags:
marketing
,
Momentum