Expo Marks The Spot
Tuesday, November 9 2010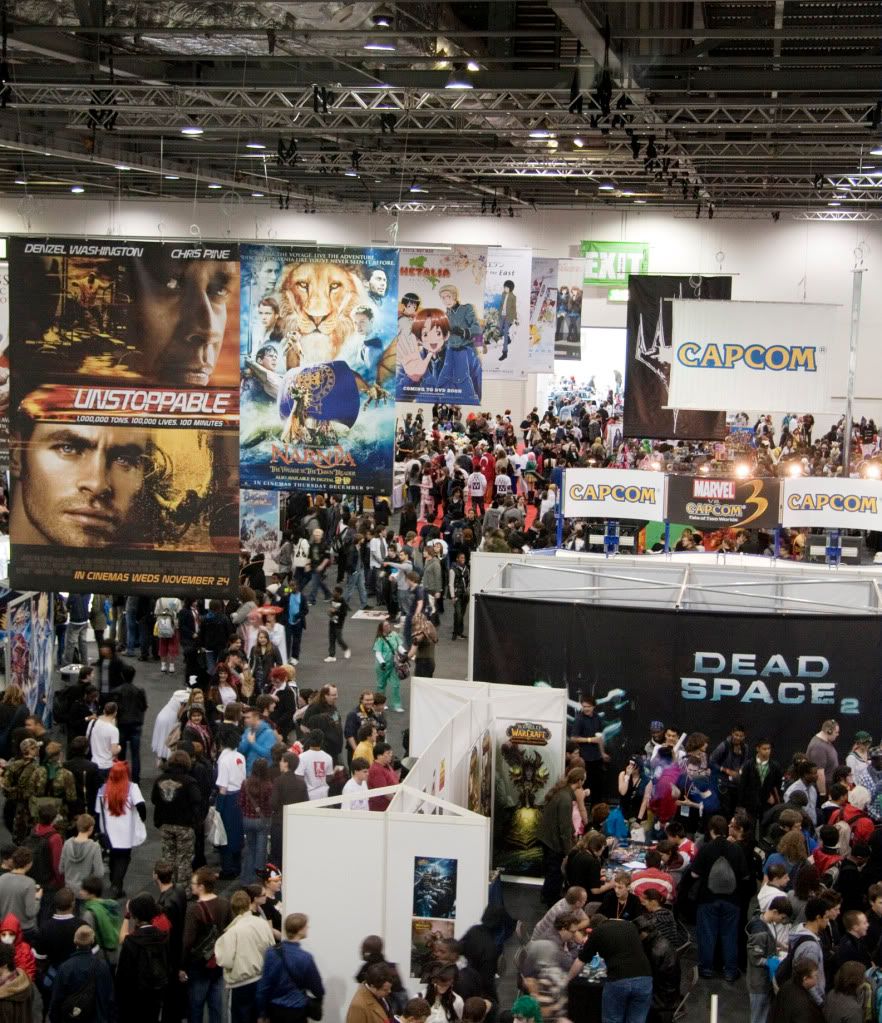 It's the UK's equivalent to Comic Con and is becoming an increasingly important destination event for many – certainly the ever-increasing number of fans who trek to the Excel centre in east London for one weekend every six months to see a raft of forthcoming product, across home entertainment, theatrical, games and loads more. The MCM Expo drew record numbers (as revealed in last week's Raygun newsletter) and had more stuff on show than ever before. Of course The Raygun was on hand to view it close up – we sat along with the devoted, many in their cosplay outfits some even dressed as Na'vi, in a presentation for the Blu-ray extras for Fox's forthcoming collector's edition version of Avatar, but we thought we'd leave it to some exhibitors and attendees to give their thoughts on the event…
"The London MCM Expo – London's Comic Con was a tremendous success. Early estimates indicate total ticketed visitor numbers at 46,000. Once you add exhibitors, staff, industry and press tickets we are over 48,500. This is a record-breaking attendance and by my calculations is more than 25 per cent growth on last October's show and up more than 18 per cent on the May MCM Expo. I think the numbers were buoyed by the Friday opening and the Euro Cosplay Finals taking place at the Expo. It was very noticeable how many visitors we had from the continent, with a big Scandinavian and Dutch contingent. The MCM Expo has to be one of the largest Cosplay gatherings in the world. It was an amazing sight to behold. It looked to me like at least half of the visitors to the Expo were in costume. That's amazing.
"Manga Entertainment had its most successful Expo ever with record takings on the Shop Manga booth. We sold out of most of our stock of DVD and Blu-ray releases and box sets. We also launched the KAZE range of licenses anime and manga character merch at the show, which was very successful. And Viz Media continued to do a roaring trade in manga book sales off the stand. Manga is probably the top retailer at the event in terms of overall takings and revenue for the weekend. In addition to our retail activity, we successfully launched Eden Of The East, which is the big new 11-part anime miniseries from the writer and director of Blood The Last Vampire and Ghost in the Shell Stand Alone Complex (OUT 29th November). We hosted a free signing of EOTE postcards on the Manga booth with the lead American voice actor, Michael Sinterniklaas.
"We also launched the new Vampire Knight anime series from Viz Media. Once again we hosted a free signing with Stephanie Sheh from the series as well as branding down the main avenue and on the booth. As per usual, Manga teamed up with Neo and Ubisoft to host the Cosplay Corner photo booth. We took more than 1,000 Cosplay portraits on the stand and will publish the winners in Neo in a month's time. We also ran our first ever Manga Focus Group at the show with 40 volunteers, male and female aged 13-30 over the course of five group sessions on Saturday. This provided us with an invaluable insight into the media consumption habits of our target audience. We won five Neo Readers Awards for Best Anime, Best Anime Movie, Best Anime Distributor and Best Film Distributor and share Best Franchise with Viz Media for Death Note. Finally, I attended the bi-annual Anime Industry Panel in the Comics and Anime Village and was surprised to see that it had sold out with 200 fans and journalists waiting to hear what Beez, MVM and Manga  have installed for 2011 and beyond.
"I was also interview by Radio 5 live on the Expo floor on Friday and the story went out on Saturday night. The BBC's Politics Show also broadcast live from the event (http://www.bbc.co.uk/programmes/b007tjl5) and we received coverage in the Metro, Evening Standard and Short List.
"I'd like to offer my gratitude to everyone who made this MCM Expo so successful. Thanks to Bryan Coney and Paul Miley of MCM Events, the amazing and dedicated group of people at Team Manga, Viz Media, Kaze, Neo, The Associates, Capcom and Paul Jacques Photography."
Jerome Mazandarani (Manga)
"MVM Entertainment has been a sponsor of the London Expo show since its very first outing and it's reassuring, especially in these hard times, to see an event grow year on year. Once again, London Excel and the surrounding area was taken over by anime cosplayers in their thousands, and opening the show on Friday gave chance for greater exposure of the power of this event to press and more of our industry.
"The growing MVM catalogue of series collections was well received and a feeding frenzy was pretty constant throughout the weekend at our £1 dumpbins, clearing those old single volumes now replaced by full collections. We apologise to disappointed Slayers fans as our new release title for the show Slayers Revolution got lost in transit. But many were happy with recent releases of Moribito and the fantastic Blade Of The Immortal. There is no doubt that the London Expos are the events of the year for both fans and industry alike."
Tony Allen (MVM)
"Expo was good for us – we held a signing with Jock and Andy Diggle, co-creators of the original comic that The Losers movie is based on, which was so packed that other stands complained that we were blocking them in.
"The only thing we were selling was our new premium Guillermo Del Toro Collection on Blu-ray. It was great getting direct feedback from fans on the package, and it sold well considering the price point.
"All-in-all it was a successful expo, and great having an opportunity to talk to the people that buy our products."
Helen Mullane (Optimum Releasing)
"We did a joint stand with Third Window Films and it offered good visibility for our titles. We felt there was a low attendance compared wit the May event and we felt Friday was a waste of time.
"Our stand was not as busy as usual, but that did mean we got more time than we normally do to talk to people, especially Asian Cinema fans, on Saturday and Sunday.
"Kamikaze Girls always does well at expo given the crowd, as does Hansel And Gretel. We did a Halloween offer on Hansel, BTZ and Fox Family which had good take up. People wee haggling more than usual, which is probably a sign of the times.
"Importantly though we got good visibility for Breathless and Love Exposure, both films are in the running for Best Film awards with Neo Magazine.
Joey Leung (Terracotta Distribution)
"I was asked to talk about Avatar last week at the MCM Expo in London's Excel Centre. I agreed, thinking this was a conference for tech-heads interested in 3D and the future of cinema, something I'm currently finding an interesting and stimulating topic for discussion. I looked forward to eyeing the new technologies. However, arriving in Docklands, I spied hordes of young people dressed as zombies, cats, knights, aliens, Na'vi blue people, manga characters, and Ramona Flowers — you could call them all Scott Pilgrims, I guess. This was not a conference about whizzy new cinema inventions, but a weekend-long gathering of slavering sci-fi fans. Anyone who knows me well will understand that being in such a place, dressed in my sports jacket and brogues, is something beyond my worst nightmare. Stunned and smiling, I even posed for a picture with a young girl from Essex dressed as a Na'vi, with blue stripes and leather headdress and a tail and everything, and her nine-year-old sister whom she had also made blue and stripey. Reader, there were thousands of these people, with swords and guns and homemade fan costumes, buying comics and watching advertisements for future stuff. And do you know what? They were all very pleasant and went round hugging each other. And me. Embrace your nightmare, is today's lesson. I left MCM Expo, eventually, and went to watch my Arsenal play West Ham at the Emirates, where thousands of people wore team shirts of one kind or another, from different eras, with names of favourite players old and new printed on the back. There were scarves and hats and even some silly wigs, as there always are. And I realised these two worlds were really just the same."
Jason Solomons (The Observer, taken from his Trailer Trash column http://www.guardian.co.uk/film/2010/nov/07/trailer-trash-jason-solomons)
Tags:
event
,
MCM Expo