Launching Pad
Tuesday, September 28 2010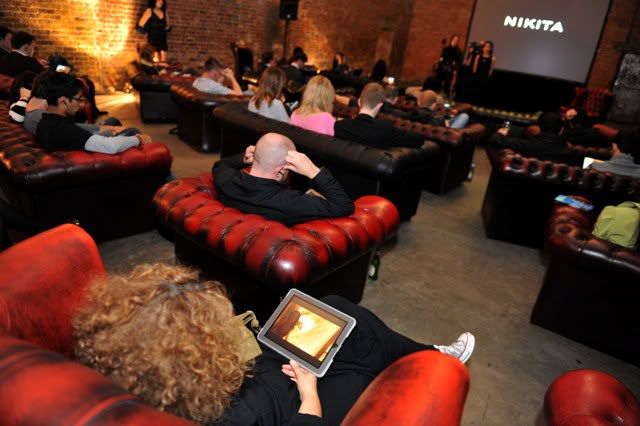 It was an event shrouded in secrecy, with an invitation marked merely as confidential and little given away as to what would be airing. A cab arrived to pick The Raygun and assorted consumer journalists up to ferry them to an East London venue (Global Underground, a club that normally plays host to some of Shoreditch's trendier nights out) and, as this accompanying footage demonstrates, were welcomed in the manner of some kind of special mission.
The event, hosted by, among others, Warner, it transpired, was organised to mark a first, as its next major TV launch, Nikita, was due to be made available for download via iTunes at nearly the same time as its US television bow and well ahead of its UK TV transmission (planned for Living on October) and eventual home entertainment launch on these shores.
And in another first, the awaiting press (after being treated to some complimentary booze and nibbles, of course) were treated to a premiere airing of Nikita, which stars Maggie Q, better known for her appearances in a slew of Hong Kong actioners and, latterly, Mission: Impossible III, on an iPad. The nifty bits of Apple kit were handed out (and counted out and counted in, although there were rumours that one enterprising journalist – not us, we hasten to add – had spirited one away) and the assembled media settled into comfy armchairs and sofas to watch the programme, with a plentiful supply of drinks and food keeping us going.
As seasoned screening attendees we were suitably impressed. And if you'd told us a few years back we'd be doing something like this and, after the hour-long programme had finished, have a press conference cum Q&A hosted by Danny Wallace, quizzing star Xander Berkeley (24 et al), live over the Internet – courtesy of the magic of Skype – we wouldn't have believed you.
Tags:
event
,
Nikita
,
PR
,
warner